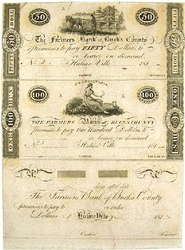 I just wanted to let you know how happy & satisfied I am with your prices, quality coins, & prompt shipping. You always send me good coins & shipped in good condition. Thank you & will enjoy doing business in the future with you. - W.B. Freeman, IL
Columbia, MD (PRWEB) May 20, 2010
Coast to Coast Coins and Currency uncovered a rare early 19th Century holding of original uncut banknote sheets. Coast to Coast Coins & Currency , a Columbia, Maryland based firm, will market this group of original, never issued uncut banknote sheets through its various publications and on its website. The group consists of two different types.
One is a four piece sheet consisting of a $3, $2 and two $1 notes. The second sheet contains a $50, $100 and interestingly a blank post note. A post note could be made in any sum and was essentially a circulating promissory note. These sheets both bear the name of the Farmers Bank of Bucks County Pennsylvania. This bank was located in the town of Hulme Ville not far from Philadelphia.
Coast to Coast Coins specializes in collector coins and currency, covering the entire range from beginner to advanced, including the unusual. However a spokesperson for Coast to Coast states that the large numismatic firm has never previously encountered these circa 1810 bank note sheets.
Coast to Coast Coins sells and buys ollector coins, rare coins, bullion, foreign coins and currency. They have a rapidly changing inventory of coins and currency interesting enough for coin collectors of every level. The bullion coins are sold with market prices updated continually, with a secure website & great customer services. Ordering coins & currency has never been made so easy.
They have sold several hundred million dollars of material to well over a hundred thousand different customers over the 26 years they've been in business. They're focus on buying "right" and the contacts they've developed over the years, allows them to come up with a steady stream of interesting material even in today's tight market when other dealers complain that there isn't enough quality coins and currency available. They have received coin reviews and countless testimonials from their happy customers. Subscribe to their mailing catalog or to their email newsletter and stay tuned to the latest coin & currency selections they have to offer.
For more information on these sheets or any of the multi-thousand selections of coins and currencies from the Coast to Coast inventory call 1-800-638-8869. You may also view our coins and currency selection online at CoastCoin.com and browse our selection of coins and Currency, coast to coast coin reviews, US coins and currencies, foreign coins and currency, bullion coins and state quarters. We also buy coins and currency and largest online coin dealer in east coast.
###