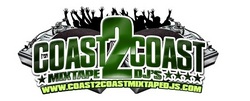 The radio station was the perfect outlet for our large stable of DJs, giving them a platform to shine on an international level
Miami, FL (Vocus) July 30, 2010
Coast 2 Coast Radio will be available worldwide to showcase the talents of all Coast 2 Coast DJs as well as the artists that are supported by the mixtape series. The station is an officially licensed broadcast using Live365.com streaming technology as well as licenses from ASCAP, BMI, SESAC and SoundExchange. The station will play live mixshows from dozens of Coast 2 Coast DJs from around the world. Regular station rotation will include the live mixshows, mixtapes, and both independent and major singles.
Current live shows include local Miami talent such as Shadyville/G Unit DJ, DJ Young Cee, Shadyville/G Unit DJ Epps, DJ Radamas of Club Space, DJ Stevie J of LIV, LA Smooth of Power96, DJ Rob Dinero, Core DJ Wildman Teddy T, Beatminerz Producer BabyPaul aka BpZy, DJ Smokey Bear, DJ Klassic and many more. The live shows take place at Coast 2 Coast Mixtapes' Miami Offices in Downtown Miami off Biscayne Blvd.
"The radio station was the perfect outlet for our large stable of DJs, giving them a platform to shine on an international level," says CEO Kyle "Lil Fats" Hiersche, "It just made sense, we have so many great DJs and work with so much great music everyday…why not make a powerful radio station that fuses the two together?"
Coast 2 Coast Radio is run by long time radio veteran Ken "DJ Special K" Spellman, running the automation and programming aspects from his Soundcheck, Inc. studio in New York. Ken provides consulting as well as technical expertise to the growing venture as well as all other aspects of Coast 2 Coast Mixtapes. Ken was key to the launch of Sirius Satellite radio and stayed on board as manger of the R&B division for a number of years.
"It is a pleasure and an honor to work with an organization dedicated to the DJs and the mixshow community," explains Ken, "I am happy to be part of the Coast 2 Coast network."
For more info on Soundcheck, Inc. visit http://www.soundcheckny.com
To listen to Coast 2 Coast Radio tune in anytime at http://www.coast2coast.fm
###