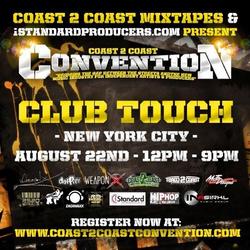 We created the convention to give all artists a fighting chance in the changing landscape that makes up the music industry today
New York, NY (PRWEB) July 26, 2009
Coast 2 Coast Mixtapes, Coast2CoastMixtapes.com, is one of the largest music promotion companies in the world and has teamed with iStandardProducers.com to create a unique event aimed at giving the recording artist an advantage in today's fragmented music industry. The event will take place August 22nd at Club TOUCH in Manhattan, NY and feature dozens of established music professionals from all of the major record labels speaking on the new music industry.
Confirmed industry panelists include: Senator Skid (BadBoy Records), Dro (Shady Records), Big Theo (Interscope Records), Davey D (Universal/Motown), Eric Beasly (Asylum Records), Ray Edwards (Violator Management), KP ( DatPiff.com), Michael Trampe (HipHopDX.com), Niel, Big Yu & C.L. (Digiwaxx.com), Lil Fats (Coast2CoastMixtapes.com), Baby Paul, Mista Raja, The Legendary 'Buckwild', J Hatch (iStandardProducers.com), Marc Smilow and many more. For the full list of confirmed guests please visit the official event website, http://www.Coast2CoastConvention.com .
Topics for the panels include Professionalism and Etiquette, New Media, Producers, and Major Label/A&R Relations. The event will allow the upcoming independent artist a chance to mix with established artists and industry professionals and get insights into the future of the new music industry.
"We created the convention to give all artists a fighting chance in the changing landscape that makes up the music industry today," adds Coast 2 Coast Mixtapes CEO Kyle Hiersche, "The music industry today is completely different from even a year ago, it takes dedication, drive and most importantly knowledge to excel in this new music industry. The convention will help provide all the tools necessary for thousands of upcoming and established artists scrambling for exposure."
To register to attend the event go to the official event website, Coast2CoastConvention.com. The website also contains a full list of agendas, guests, sponsors, and more.
The event will be a private event for registered guests only and takes place during the daytime from 1-9PM as a professional networking event. VIP and media passes are available for qualified individuals and media outlets, please contact Nick Hiersche at the information below.
CLUB TOUCH
240 WEST 52ND STREET
New York, NY 10019
http://www.touchnewyorkcity.com
Official Sponsors of the event include: ISTANDARDPRODUCERS.COM, COAST2COASTMIXTAPES.COM, DATPIFF.COM, DIGIWAXX.COM, INASIRKL MUSIC GROUP, COAST2COASTMIXTAPEDJS.COM, 2520 CLOTHING, VENTILATION X, RS RADIO, BOTTOM FEEDER MUSIC BLAST, HIPHOPRUCKUS.COM, WEAPON X PROMOTIONS, SWURVRADIO.COM & MORE.
About Coast 2 Coast Mixtapes:
Coast 2 Coast Mixtapes is a music marketing company that combines the biggest names in urban music with upcoming indie artists to create unique promotional CDs. Coast 2 Coast Mixtapes are the most downloaded mixtapes in the industry and have an impact in the urban music scene is over 60 countries. All mixtapes are available for free download at http://www.Coast2CoastMixtapes.com .
###