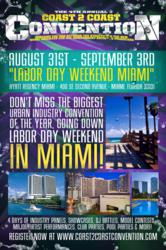 Miami, FL (PRWEB) August 27, 2012
Coast 2 Coast Mixtapes will bring music industry DJs, producers, bloggers, artists, and more together for the 4th Annual Coast 2 Coast Convention this during Labor Day Weekend. The event will take place at the Hyatt Regency in downtown Miami and will bring hundreds together to discuss the changes in the music industry and its future.
"We have been preparing for this year's convention for a long time and are excited for it to finally be here," says Kyle "Lil Fats" Hiersche, CEO of Coast 2 Coast. "The Coast 2 Coast Convention gives indie artists an opportunity to be in front of music industry leaders and we take pride in being able to provide this experience."
The convention events will be hosted by Lil Fats of Coast 2 Coast and will feature presentations on marketing, promotion, new media, industry etiquette, production tips, a model party, VIP yacht cruise, DJ battle, workshop with CTE artist Tone Trump, and more. Panels will include representatives from urban websites, platinum producers, record labels, commercial radio, and artists. Confirmed panelists for this year include:
New Media Panel (Today's Biggest Blogs and Websites)
DJ Z (DJBooth.net)
KP (Datpiff.com)
Mike Trampe (Marketing Director at HipHopDX.com)
Young Jack Thriller (ThisIs50.com/G-Unit Comedian)
DJ Papa Smirf (The Blast King)
Kevin Nottingham (Kevinnottingham.com)
Label/Executive Panel (Professionals from Major Labels)
Brandon Lamela (A&R from Aftermath Entertainment)
Flossy (President of Hoo Bangin Records)
Sonny Benjamin (A&R Flo Rida's Strong Arm/IMG)
Jullian "Ju-Boy" Booth (VP of Slip N Slide Records/The Executive Club Management)
Dre McKenzie (Head A&R, G-Unit Records)
Special "Let's Win" Workshop (Learn the Skills and Grind to Make it in Today's Industry)
Tone Trump (Newest Artist Signed to Young Jeezy's CTE Label)
DJ/Radio Panel (Top DJs, PD's and MD's)
Jill Strada (Program Director at Power 96 Miami)
Akio (Founder of Shadyville DJs/DJ Whoo Kid Manager)
Bigga Rankin (#1 DJ in the South/Founder of Cool Running DJs)
DJ GQ (Y100 Miami)
DJ Nasty (99Jamz Miami/Strong Arm/Poe Boy)
DJ OG Ron C (Legendary mixtape DJ/Co-Founder of Swishahouse)
Tony Neal (Founder of the Core DJs/Mixshow Live)
DJ Pain 1 (Producer for Young Jeezy, Gucci Mane, 2 Chainz, Meek Mill, 50 Cent)
Producer Panel (Today's Biggest Platinum Producers)
Rockwilder (Grammy winning producer for Jay-Z, Redman)
DJ Pain 1 (Producer for Young Jeezy, Gucci Mane, 2 Chainz, Meek Mill, 50 Cent)
Baby Paul aka BpZy (Grammy nominated producer for Nas, AZ, Fat Joe, Big Pun)
Bosko (Platinum producer/songwriter for Kanye West, Drake, Lil Wayne, E- 40, more)
The Renegades (Producers for Lil Wayne, Rick Ross, Plies, and more)
Tre Beatz (Producer for The Game/Black Wallstreet)
Streetrunner (Grammy winning producer for Lil Wayne, Big Sean, The Game)
Symbolyc One S1 (Grammy winning producer for Beyonce, Jay Z, Kanye West)
The event will be covered by dozens of urban media publications, blogs, and websites including Datpiff.com, HipHopDX.com, DJBooth.net, NewIndustryTips.com, MakinItMag, MusicDealers.com, Street News Network, All Out All Star DJs, iStandard, Hip Hop U C It, J Global Entertainment, Lady Pro Entertainment, Mat3riaL WorLd Media Marketing & Management Group, Disspenters.com, Dickinson Magazine, You're What's Happening, GMOG Media, Fusebox Radio, Detroit Radio Riot, Rap Attack, We Up On It, La Familia Media,Rude Gyalz, Visions Entertainment Group, Swaggaripe Media, Stop Beefin Radio, and more.
Artists and music industry guests can still register for the event at http://www.coast2coastconvention.com as well as review the updated schedule, panelists, partners, and sponsors.
About Coast 2 Coast Mixtapes
Coast 2 Coast Mixtapes are the most widely distributed mixtapes in the world, with over 100 million downloads/plays generated by over 200 volumes officially hosted by major artists. Coast 2 Coast has a solid reach in the new music industry with a digital magazine, DJ coalition, industry tips blog, yearly convention, and more. Coast 2 Coast Mixtapes represents a unique opportunity for artists of all urban genres, from major to indie. For more information, visit http://www.coast2coastmixtapes.com.
###