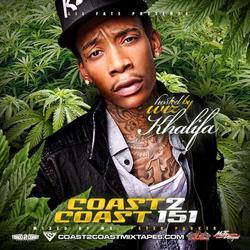 How Hard Do You Hustle?
Miami, FL (PRWEB) February 1, 2011
Coast 2 Coast Mixtapes releases Vol. 151 of its weekly mixtape series, which is now the most downloaded mixtape series in the world. This volume, hosted by Pittsburgh emcee Wiz Khalifa and mixed by Mr. Peter Parker is available from Coast 2 Coast Mixtapes at http://www.coast2coastmixtapes.com for free download. The mix includes remix and original tracks from some of the biggest artists in hip hop and R&B including Wiz Khalifa, Too $hort, The Game, and Young Money's Short Dawg and Gudda Gudda. Vol. 151 also features up-and-coming artists in the industry including iLLA, David Cash, St. Fort, and others.
Wiz Khalifa has been steadily gaining momentum in the industry, and his single "Black & Yellow" is climbing the Billboard charts. Once the Pittsburgh rapper dropped "Kush & Orange Juice" in early 2010, it was clear that he had established himself as one of the rap-game's brightest young stars to watch. With an unprecedented amount of downloads, not to mention both the top search on Google as well as the number one trending topic on Twitter, it seemed as if the entire nation was on board with the "Taylor Gang" movement. Many said that the release of "Kush & Orange Juice" placed Wiz as the valedictorian of his "XXL Freshmen 10" class and kicked open the doors he and his team were looking to walk through. Khalifa's debut album on Atlantic Records will be something to watch for. http://www.wizkhalifa.com
Originally from the Boston area, Minneapolis' Mr. Peter Parker has now cemented himself as the only major mixtape DJ in the area. In conjunction with radio workouts, he hosts his own exclusive mixtape project series: "How Hard Do You Hustle?" and "Grind Season Go-Getters." The official mixtapes, cheered on by the hottest talent in the mixtape game such as Lupe Fiasco, Ice Cube, Wiz Khalifa, J.Cole, Wale, Styles P, Freeway, David Banner, Guru from Gangstarr, and Saigon just to name a few, have created major buzzes in the music business. Mr. Peter Parker is an official Coast 2 Coast DJ, along with his affiliation with Shadyville DJs and Core DJs. For more information, check out http://www.mrpeterparker.com
"Coast 2 Coast Mixtape Vol. 151" is available for free streaming and download at http://www.coast2coastmixtapes.com
###