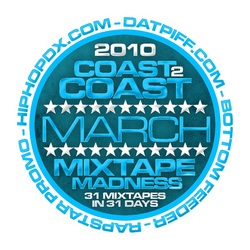 Coast 2 Coast Mixtapes is going to make history again with March Mixtape Madness 2010
Miami, FL (Vocus) March 1, 2010
Five of the entertainment industry's top digital outlets for the latest music and entertainment news have join forces this year to present March Mixtape Madness. Coast 2 Coast Mixtapes, Datpiff.com, HipHopDX.com, Bottom Feeder Music and RapStarPromo will merge together to bring fans 31 mixtapes in 31 days featuring some of the leading Hip-Hop, R&B, and Reggae artists.
On a daily basis within the month of March a mixtape will be released from artists and DJ's such as Souljah Boy, AZ, Sha Stimuli, Kurupt, Omarion, Three Six Mafia, illaj, Tone Trump, Ace Hood, Trazz, Mikey Bloodshot, Statik Selehtah, DJ Noodles, The Empire, Mr. Peter Parker, DJ Epps, DJ Ykcor, DJ Nophrillz, DJ NU, and many more.
The mixtapes will be available for free download on Coast2CoastMixtapes.com, DatPiff.com, HipHopDX.com, and promoted to millions of fans through Coast 2 Coast Mixtapes' unique mixtape marketing services. Datpiff.com, the largest online mixtape site in the world, will host an exclusive page dedicated to the March Mixtape Madness campaign combined with support from HipHopDX.com and thousands of other websites that currently post Coast 2 Coast Mixtapes.
March Mixtape Madness was created by Coast 2 Coast Mixtapes in 2009 and garnered international attention with the successful release of 31 exclusive mixtapes in March. The campaign generated over 30 million downloads, plays and views from postings on thousands of urban websites and blogs. The promotion these campaigns provide for the artists involved are priceless and the results are tracked through Coast 2 Coast Mixtapes' innovative website. The 2009 campaign featured exclusive mixtapes from DJ Drama, DJ Noodles, MIMS, Terrence J, Fat Joe, Archie Eversole, Sha Stimuli, iLLAJ, Red Cafe and many more.
"Coast 2 Coast Mixtapes is going to make history again with March Mixtape Madness 2010," explains Owner/CEO Lil Fats, "we are very proud to be affiliated with all the sponsors, DJs and artists lending help to the campaign. We are confident fans of all types will be pleased with the surprises we have in store this month."
About Coast 2 Coast Mixtapes:
Coast 2 Coast Mixtapes is the world's largest online mixtape distributors, with over 100 millions downloads/plays, and a presence on thousands of websites and blogs. C2C Mixtapes has worked with some of the industry's most notable artists such as Nas, Styles P, Keri Hilson, Fabolous, Chris Brown, Snoop Dogg, WALE, DJ Drama, Ciara, DJ Khaled, The Game, Pharrell, Lupe Fiasco, Ghostface Killah and countless others. The company consist of various divisions including a magazine, DJ coalition, digital marketing/promotion and more. Coast 2 Coast Mixtapes represents a network of over 10,000 artists, 400 DJs, and thousands of urban websites and blogs to successfully market music of any kind.
###