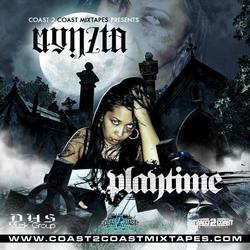 Raleigh, SC (Vocus) March 24, 2010
South Carolina female rap artist Munzta enlists Coast 2 Coast Mixtapes to promote and distribute her new mixtape project titled Playtime. The release sets her mixtape debut and is now available for free download on hundreds of sites including http://www.coast2coastmixtapes.com
Munzta pronounced monster, the aggressive female rap artist from South Carolina was born June 6, 1980, as Melisa E. Russell to a Korean mother and African American father. She chose to release her inner thoughts and ideas through a hobby of creative writings such as poetry and songs as a shy child. Music as a career was then perceived as a far away dream. In her early teen music years, Munzta took interests in diverse rap artists such as Tupac, B.O.N.E. Thugs and Harmony, Three Six Mafia, Outkast, etc. along with many other music genres that help to mold her dark musical identity.
The stage name Munzta, twisted with a touch of southern slang and Asian accent from her upbringing was derived from the term monster which describes the opposite of what Munzta is as a human being and visual image. The terms' similarities contribute to Munzta's abnormal, legendary, and threatening style as an upcoming successful rap artist. In reference to Aileen Wuornos aka Monster the female serial killer, Munzta the rap artist lashes out her reasons for destruction verbally to destroy beats. Mixtapes, albulms, collaborations, etc. will be on her list of things to destroy in the upcoming year.
Find more information on Munzta at http://www.myspace.com/imamunzta
About Coast 2 Coast Mixtapes:
Coast 2 Coast Mixtapes are the most downloaded mixtapes in the world and promote major and independent artists from around the world looking for worldwide exposure. By connecting with a major artist for hosting, independent artists get a platform to expose their music to relavent fans from all over. Visit http://www.coast2coastmixtapes.com to download all the mixtapes for free or for more information on the company.
# # #