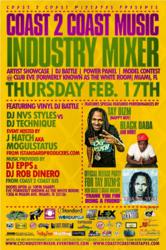 Over the past few months, our mixer has become a place for industry players of all types to come together and network
Miami, FL (Vocus/PRWEB) January 25, 2011
The third of a monthly series of Coast 2 Coast Music Industry Mixers in Miami will take place February 17, 2011. The event will be held at EVE (formerly the White Room), downtown at 1306 North Miami Avenue; $10, with doors opening at 10pm. This special event doubles as the official release and party for Nappy Boy artist Tay Dizm's new Coast 2 Coast mixtape, "Thank You For Being a Friend." Featured performers are Tay Dizm along with "Imma Zoe" artist Black Dada. Hosted by J Hatch of iStandardProducers.com, the mixer will also feature a vinyl DJ battle between DJ NVS Styles and DJ Technique, an artist showcase, model contest, and an industry power panel. Panel speakers and judges include Stan Marseille of Nappy Boy Entertainment and legendary radio DJ, Wildman Teddy T. More information and ticket purchase are available at http://c2cindustrymixer.eventbrite.com.
"Over the past few months, our mixer has become a place for industry players of all types to come together and network," says Coast 2 Coast Mixtapes CEO Kyle "Lil Fats" Hiersche. "Last month we had over 300 guests in the building, including Grammy Award winning, multi-platinum producer StreetRunner, radio mogul Nick V from the Baka Boyz, and comedian Donnell Rawlings from Chapelle's Show, to name a few."
February's industry mixer also features the release of Coast 2 Coast affiliated artist iLLA's (aka Illaj) latest mixtape, entitled "Van Gogh: The Mixtape."
Video and photos from January's Coast 2 Coast Music Industry Mixer are available at http://coast2coastmixtapes.com and http://c2cindustrymixer.eventbrite.com.
This event is sponsored by iStandardProducers.com, Get Your Buzz Up, Digiwaxx, Miami Recording Studio, Bottom Feeder Music, WordupDJ.com, MJA Fashion, Urban Relations, DJEpps.com, Maad Management, GoodLifeMiami.com, DestinyBrownPhotography.com, LEX Promotions, MP3WAXX, The Blast King, Hip Hop Weekly Magazine, Lush Radio, Grind Time Magazine, HYPE Magazine, Urban Lax, Randa's Consulting Inc., East Coast Digital Radio, and more.
For more information regarding artist performance slots, email coast2coastmixtapes(at)gmail(dot)com. Models interested in participating in the model contest, email coast2coastmodel(at)gmail(dot)com.
# # #