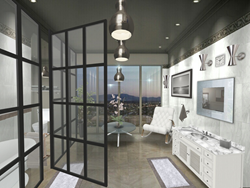 Jacksonville, FL (PRWEB) October 09, 2014
Coastal Shower Doors' Gridscape Series made its debut on Autodesk Homestyler just a few months ago, but the product has proven remarkably popular. The Gridscape series offers a bold design with an oil-rubbed bronze finish and clear, satin, and patterned glass. Patrick Cobb, national accounts for Coastal Shower Doors, has been astounded by the overwhelming interest and demand for the new design, even prior to it being featured on Homestyler.
Autodesk Homestyler is a web-based interior design software and mobile application for IOS and Android that brings your home design ideas and remodeling dreams to life. With more than 120,000 home décor products in the catalog, users can lay out floor plans with all the finishing touches by interacting with products in 3D.
"Before we contacted anyone at Homestyler, we set up a Pinterest page for the Gridscape product to see what kind of response we would get from pinners. The feedback was inspiring; people were pinning Gridscape shower doors left and right and asking where they could find this new product," said Cobb.
Coastal Shower Doors then decided to reach out to Autodesk Homestyler to introduce them to Gridscape. At the time, shower doors were not included in the Homestyler catalog and users were demanding options. Homestyler realized the unique designs Coastal Shower Doors provided would be a welcome addition to the styling options that existed on their software. Today the Coastal lines are the only shower door products available on Homestyler.
In the latest analytics report, Coastal products received nearly 90,000 placements on Homestyler. In addition to the Gridscape series, Coastal's ValueLine Series Frameless Shower door and its Radiance series also performed in the top 5 percent.
Coastal Shower Doors' Gridscape series is available in many configurations, now available for purchase. For more information about Coastal Shower Doors' Gridscape series, email info(at)coastalind(dot)com. To peruse other Coastal products, visit http://www.coastalshowerdoors.com
About Coastal Shower Doors: Coastal Shower Doors was founded in 1972 with the mission to create the industry's finest bath and shower enclosures. Located since its inception in Jacksonville, Florida, Coastal's manufacturing operation is housed in the most advanced and efficient bath enclosure production facility in the world. The 250,000-square-foot, state-of-the-art facility employs more than 200 professionals making it the largest shower door manufacturing facility in the USA. Additional distribution centers are located in Atlanta, Houston and Charlotte.
Contact: Monique Moffit
336-501-8554
moniquem(at)salesfactorywoodbine(dot)com