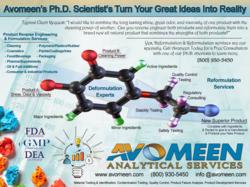 (PRWEB) September 26, 2012
Avomeen Analytical Services, known for its expertise in product reverse engineering and failure analysis has released an article on the deformulation of paint and coating products. The article on reverse engineering paint formulations can be found on the laboratories website.
Deformulation analyses are preformed by companies in a range of industries to answer a variety of complex problems. These analysis help companies by providing a detailed competitor product analysis, development of new products, solve quality control problems, and improving current product formulations.
The article contains information useful to those in the paint and coating industry including instruments and techniques that a laboratory uses to preform paint deformulation, what questions are solved, and common difficulties involved with this type of analysis.
Learn more at: http://www.avomeen.com