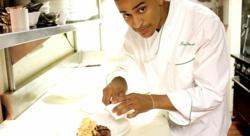 "food is my expression, food is what I do" - Joseph "Chef JJ" Johnson
New York, NY (PRWEB) May 17, 2012
Joseph "Chef JJ" Johnson has asked Crooked Brook makers of the "World's Highest Quality Chef Jackets™", to help design, cut and sew the custom chef coats for his appearance at HealthCorps' Teen Battle Chef Showdown, Sunday, May 20th, 2012 at the South Street Seaport in NYC.
JJ was the first winner of Bravo Network's Rocco's Dinner Party, and is currently producing a new cooking TV show created to get kids to start cooking and help parents to be more conscious of what they put in their bodies; Kids Love Cooking with Chef JJ.
Joseph's first chef coat is a style M101, which he will be wearing for a press conference as well as a photo shoot:
White, 100% cotton Seersucker fabric, with White Rivershell buttons.
His second jacket is also an M101 style, which he will be wearing on stage for the entirety of the competition:
Grey, 100% Organic Cotton Twill fabric, with Abalone Buttons.
Embroidery placement for both jackets is as follows:
Kids Love Cooking with Chef JJ logo & VuMee logo on left chest.
Crooked Brook logo on the left sleeve.
Teen Battle Chef logo on the right sleeve.
About Chef JJ and Kids Love Cooking with Chef JJ
Recently, Chef JJ was the first winner of Rocco's Dinner Party competition, which aired on Bravo Television Network. With his amazing charm and high confidence it was very easy for viewers to take a liking to him. Chef JJ is currently displaying his culinary talents in an executive dining institute while hosting events, and teaching others to live a healthy lifestyle.
In an effort to get individuals more conscious of what they put into their bodies and to increase awareness of childhood obesity, Chef JJ is working on a television show called Kids Love Cooking with Chef JJ. In the filming of the show, Chef JJ works with children to teach them various techniques on how to eat healthier. Chef JJ believes food is an expression and cooking is the greatest stimulator. He incorporates local ingredients, modern cooking techniques, and laces them with a sense of love and humor.
About Teen Battle Chef
Teen Battle Chef is a nationwide youth development program operating in over 80 schools, farms and community centers in 16 states by HealthCorps, a non-profit organization Co-Founded by Dr. Mehmet Oz, daytime Emmy-winning host of The Dr. Oz Show. The program was founded by Lynn Fredricks of FamilyCook Productions to explore culinary, food systems and gardening education, while battling obesity and chronic disease.
About Crooked Brook
Crooked Brook is part of the atelier division of an art studio that offers full service apparel design, pattern making, sample making, private-label small lot production and embroidery. Since 1989, they've built a strong reputation of providing top-notch apparel designs, patterns, fit and production samples for many brand name catalogs and retailers, as well as wardrobe and costumes for movies, television and theater.
All Crooked Brook branded garments and accessories are proudly made to order in the U.S.A.
Because of their unparalleled attention to detail in tailoring, they were awarded a Supima® licensing agreement. These contracts are not awarded lightly. The applicants must meet requirements insuring the highest level of quality and integrity for any products bearing the Supima® brand. In addition, Crooked Brook designs and manufactures:
Uniforms: Men's and women's chef coats for the world's most recognized chefs, hotels, casinos, spas and resorts as well as alumni chef jackets for the Culinary Institute of America. Each garment can be personalized with the customer's choice of fabric, pockets, buttons, piping and embroidery. With a design studio in New York City, (the fashion and gastronomic capital of the world) and a production facility in Utica, New York, they've garnered international brand name recognition as the maker of the "World's Highest Quality Chef Jackets™".
Promotional products: Items, decorated apparel and accessories, such as jackets, hats, sweatshirts, hoodies, polo shirts, fleece blankets, sweatshirt blankets, button down shirts, fleece jackets, golf shirts, t-shirts, tote bags, and aprons that can be customized with the following apparel decorating methods:
Embroidery
Tackle Twill
Appliqué
Direct to Garment Printing (DTG)
Sublimation
Custom lab coats, uniforms and scrubs for nursing, medical, dental, scientific, engineering, technology & healthcare professionals.
Custom made apparel and accessories for men and women, including but not limited to: suits, shirts, Hawaiian shirts, pants, vests, dresses, skirts, gowns, jeans, boxer shorts, martial arts and yoga outfits.
Crooked Brook ships worldwide. Hours of operations are 7:00 a.m. to 7:00 p.m. EST, seven days a week. Reach them at (315) 733-1992 or visit http://www.crookedbrook.com/ to learn more.