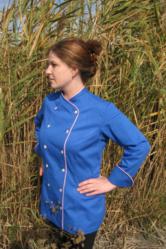 "Anybody can enter, as often as they like...every week will feature a different size and style." - Ruth Rickey
New York, NY (PRWEB) May 10, 2012
Crooked Brook Chef Coat Giveaway 5 is under way at Master Sugar Artist Ruth Rickey's blog SugarZen.
This one is a women's chef coat:
BSW101
Size 10
Blue, 100% Organic Cotton Twill fabric
Left shoulder sleeve tailored welt pocket
Pink Troca buttons
Pink Sham piping; collar, cuffs and both fronts
Irregularities; None
Value: $178.00 including shipping
Terms & Conditions:
You must be 18 years or older to win.
Contest ends midnight (Eastern Standard Time) 05/23/12.
Winner will be chosen by sugarzen.wordpress.com and contacted by email.
Winner will have 48 hours to reply or a new winner will be chosen.
Crooked Brook will ship the prize to the winner within 30 days of contest end.
Physical address required for shipping; no PO boxes, US recipients only residing in one of the 48 contiguous states.
Go to Crooked Brook Chef Coat Giveaway 5 at SugarZen to find out how to enter.
About Ruth Rickey
Ruth Rickey is a Certified Master Sugar Artist, former lawyer, administrative law judge and bakery owner. Ruth was named the top Bakery Manager in the world for the IGA stores (3200 stores in 31 countries) in 1999, and then opened Ruth's Sweete Justice Bakery in 2000. Ruth closed the bakery at the end of 2011, so that she could focus strictly on teaching and judging. Ruth began a custom product line of cutters, veneers and dusting powders and has started an educational blog called SugarZen where she gives advice and information to people in the sugar art field on subjects ranging from owning a cake business, attending cake shows, products and so much more.
Ruth has been seen on all 3 networks that have cake programming. She won WE TV's Wedding Cake Wars, she assisted Pat Jacoby's team twice in their victories on TLC's Ultimate Cake Off and she has been featured in 3 different Food Network specials about the Oklahoma State Sugar Art Show. Her cakes have graced the pages of national and international publications for years.
Ruth was given The Sweet Life Hall of Fame award at the National Capital Area Cake Show in Virginia. She is also one of only a few dozen ICES Certified Master Sugar Artists in the world! Ruth is a member of the Advisory Board for American Cake Decorating Magazine.
Ruth regularly teaches and conducts demonstrations internationally.
About SugarZen Coat Giveaways
All Crooked Brook chef jackets are made to order in the USA, however, they have various styles and sizes that were not made according to the customer's specifications, or have slight imperfections. These are the men's and women's chef coats Ruth is giving away.
Crooked Brook chef jacket prices start at $85 and go up to well over $200, and with some of the ones that Ruth is giving away, there is absolutely nothing wrong other than it is not what the customer ordered. For example: a size 16 chef jacket was made instead of a size 6, pocket placement on the left chest instead of the left shoulder sleeve or a red jacket with black piping was made instead of a black jacket with red piping.
By sponsoring giveaways; Crooked Brook moves inventory that would otherwise sit on a shelf while increasing brand awareness, Ruth's followers get a chance to win high quality chef coats, and SugarZen gets increased traffic as the word spreads and more people enter the contest.
About Crooked Brook
Crooked Brook is part of the atelier division of an art studio that offers full service apparel design, pattern making, sample making, private-label small lot production and embroidery. Since 1989, they've built a strong reputation of providing top-notch apparel designs, patterns, fit and production samples for many brand name catalogs and retailers, as well as wardrobe and costumes for movies, television and theater.
All Crooked Brook branded garments and accessories are proudly made to order in the U.S.A.
Because of their unparalleled attention to detail in tailoring, they were awarded a Supima® licensing agreement. These contracts are not awarded lightly. The applicants must meet requirements insuring the highest level of quality and integrity for any products bearing the Supima® brand.
In addition, Crooked Brook designs and manufactures:
Uniforms, men's and women's chef coats for the world's most recognized chefs, hotels, casinos, spas and resorts as well as alumni chef jackets for the Culinary Institute of America. Each garment can be personalized with the customer's choice of fabric, pockets, buttons, piping and embroidery. With a design studio in New York City, (the fashion and gastronomic capital of the world) and a production facility in Utica, New York, they've garnered international brand name recognition as the maker of the "World's Highest Quality Chef Jackets™".
Promotional products, items, decorated apparel and accessories, such as jackets, hats, sweatshirts, hoodies, polo shirts, fleece blankets, sweatshirt blankets, button down shirts, fleece jackets, golf shirts, t-shirts, tote bags, and aprons that can be customized with the following apparel decorating methods:

Embroidery
Tackle Twill
Appliqué
Direct to Garment Printing (DTG)
Sublimation
Custom lab coats, uniforms and scrubs for nursing, medical, dental, scientific, engineering, technology & healthcare professionals.
Custom made apparel and accessories for men and women, including but not limited to: suits, shirts, Hawaiian shirts, pants, vests, dresses, skirts, gowns, jeans, boxer shorts, martial arts and yoga outfits.
Crooked Brook ships worldwide. Hours of operations are 7:00 a.m. to 7:00 p.m. EST, seven days a week. Reach them at (315) 733-1992 or visit http://www.crookedbrook.com/ to learn more.