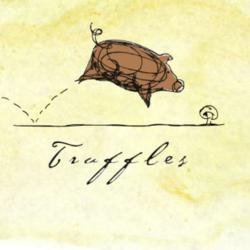 St. Louis, MO (PRWEB) May 13, 2012
Brandon Benack, recently appointed Chef at Truffles Restaurant, has sought out Crooked Brook, makers of the "World's Highest Quality Chef Jackets™" to help create custom chef jackets for his new position.
Brandon took advantage of the multitude of fabric and style options Crooked Brook offers and had them create a total of five chef jackets.
His first two chef coats are Style M101:
White, 100% cotton Seersucker fabric, with Abalone buttons.
White, 100% cotton Petit Point Pique fabric, with faux Mother of Pearl buttons.
The remaining three chef jackets are style M100:
White, 100% cotton Seersucker fabric, with Green Turban buttons.
White, 100% cotton Petit Point Pique fabric, with Awabi buttons.
White, 100% Egyptian cotton Gabardine with Faux Mother of Pearl buttons.
Embroidery: Truffles logo on left chest and "Brandon Benack" on the right chest in black.
About Chef Brandon Benack
Born in Rochester, NY, one could say Brandon's rich food memories as a child helped guide him on a path to become a chef. Having Grandparents from Calabria - Italy Brandon learned at an early age to roll meatballs for Sunday dinners and harvest grapes for homemade wine.
After his culinary beginnings in Hilton Head, SC, he spent five years at Emeril Lagasse's legendary Creole restaurants in New Orleans. His next stop would be the most impressionable on is culinary palate, as he embarked on a three-year expedition to Antigua, West Indies. The island's rich Caribbean culture and diverse variety of produce inspired his study of authentic Caribbean cuisine. In 2007, Benack returned to the US and became Chef de Cuisine at Emeril's Miami Beach. After four years et the helm of Emeril's he was recruited by Master Chef Norman Van Aken, known as the "Father of Fusion Cuisine", as a corporate chef at Norman's Orlando and Norman's 180.
In pursuit of a new home for his young family, Benack discovered St. Louis, with its great Mid-western values and emerging culinary scene. Reconnecting with Aleks Jovanovic, with whom he had worked both in New Orleans and Antigua, Chef Brandon found a new home as the Executive Chef of Truffles Restaurant. Together, they are continuing Truffles' commitment to local, fresh ingredients, bringing passion, intensity and meticulous attention to detail in a seemingly simple yet daring approach to the Modern American restaurant. While incorporating southern classics with local influences, Chef Brandon's cooking provides the perfect complement to Jovanovic's "fun" dining approach.
Chef Brandon has appeared on NBC, CBS, Food Network and Plum TV Miami. He has also been featured in publications such as Miami New Times, Orlando Sentinel and Food Buzz.
About Crooked Brook
Crooked Brook is part of the atelier division of an art studio that offers full service apparel design, pattern making, sample making, private-label small lot production and embroidery. Since 1989, they've built a strong reputation of providing top-notch apparel designs, patterns, fit and production samples for many brand name catalogs and retailers, as well as wardrobe and costumes for movies, television and theater.
All Crooked Brook branded garments and accessories are proudly made to order in the U.S.A.
Because of their unparalleled attention to detail in tailoring, they were awarded a Supima® licensing agreement. These contracts are not awarded lightly. The applicants must meet requirements insuring the highest level of quality and integrity for any products bearing the Supima® brand.
In addition, Crooked Brook designs and manufactures:
Uniforms, men's and women's chef coats for the world's most recognized chefs, hotels, casinos, spas and resorts as well as alumni chef jackets for the Culinary Institute of America. Each garment can be personalized with the customer's choice of fabric, pockets, buttons, piping and embroidery. With a design studio in New York City, (the fashion and gastronomic capital of the world) and a production facility in Utica, New York, they've garnered international brand name recognition as the maker of the "World's Highest Quality Chef Jackets™".
Promotional products, items, decorated apparel and accessories, such as jackets, hats, sweatshirts, hoodies, polo shirts, fleece blankets, sweatshirt blankets, button down shirts, fleece jackets, golf shirts, t-shirts, tote bags, and aprons that can be customized with the following apparel decorating methods:
Embroidery
Tackle Twill
Appliqué
Direct to Garment Printing (DTG)
Sublimation
Custom lab coats, uniforms and scrubs for nursing, medical, dental, scientific, engineering, technology & healthcare professionals.
Custom made apparel and accessories for men and women, including but not limited to: suits, shirts, Hawaiian shirts, pants, vests, dresses, skirts, gowns, jeans, boxer shorts, martial arts and yoga outfits.
Crooked Brook ships worldwide. Hours of operations are 7:00 a.m. to 7:00 p.m. EST, seven days a week. Reach them at (315) 733-1992 or visit http://www.crookedbrook.com/ to learn more.