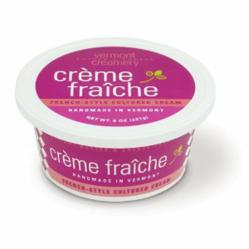 "Vermont Creamery has evolved over the years to elevate the quality and consistency of their world class, crème fraîche, cheeses and butters and we are very happy to use the wonderful products."
Chef Eric Ripert —
Le Bernardin, New York, NY
Stowe, VT (PRWEB) May 14, 2012
Vermont Butter & Cheese Creamery has tapped Crooked Brook, makers of the "World's Highest Quality Chef Jackets™", to create the custom chef coats that will match the look, feel and color of the packaging of their award winning Crème Fraîche that they will be heavily promoting in the upcoming months.
The Creamery's Crème Fraîche won 1st place from the American Cheese Society in the Best Cultured Milk Product division in 2011.
New England Sales Director, Karen Daseke and the Crooked Brook design team settled on chef coat style #106, in Horizon Pink, 100% Organic Cotton Twill fabric with white piping on the collar, front and cuffs to complete the signature look that will closely match the Crème Faîche packaging.
The embroidery placement is as follows:
"Vermont Butter & Cheese Creamery" logo embroidered on the left chest and "Crème Fraîche/ACS/1st Place 2011" on the right shoulder sleeve.
About Vermont Butter & Cheese Creamery
Vermont Butter & Cheese Creamery was started by two young visionaries devoted to new and non-traditional agriculture, Allison Hooper and Bob Reese. As a college student, Allison spent a summer traveling in France. She worked on a small family farm in Brittany, earning room and board while learning how to make all of the essentials of what was to become her life passion: cheesemaking. Bob always thought he would one day take over his grandparents' dairy farm. Unfortunately by the time he finished his degree in Agriculture, they'd sold the farm. Appropriately enough, the improbable run as long term business partners began in 1984 during a dinner celebrating Vermont agricultural products. Bob was in charge of the dinner and desperately needed a locally made goat cheese for the French chef's signature lamb dish. He reached out to Allison who was then working at a dairy lab and milking goats in Brookfield. Allison made the chèvre on the farm, Bob delivered it to the chef — the dinner was a success and Vermont Butter and Cheese Creamery was born.
About Crème Fraîche or French-style Cultured Cream
After milking the cows, separate and set the fresh cream aside. Let the natural lactic bacteria take over, creating a thick, smooth, tart result known as crème fraîche. That was how they made it on the dairy farm in Brittany, France, where Allison Hooper worked more than thirty years ago as a farmhand.
When Bob Reese and Allison Hooper co-founded VBCC in 1984, their first product was Chèvre. Crème Fraîche, their first cows' milk creation, followed close on its heels and gained instant acclaim from French chefs seeking cultured cream stateside. It is made with fresh, high quality Vermont cream from the local St. Albans Cooperative, a coop of 500 family farms in Northeast Vermont. Crème Fraîche is exquisitely rich, with a cultured, nutty flavor and creamy texture. A staple of French Cuisine, Crème Fraîche can be used as an ingredient for sauces, pastry, custard, or as a topping on pie, fruits and soups.
About Crooked Brook
Crooked Brook is part of the atelier division of an art studio that offers full service apparel design, pattern making, sample making, private-label small lot production and embroidery. Since 1989, they've built a strong reputation of providing top-notch apparel designs, patterns, fit and production samples for many brand name catalogs and retailers, as well as wardrobe and costumes for movies, television and theater.
All Crooked Brook branded garments and accessories are proudly made to order in the U.S.A. Because of their unparalleled attention to detail in tailoring, they were awarded a Supima® licensing agreement. These contracts are not awarded lightly. The applicants must meet requirements insuring the highest level of quality and integrity for any products bearing the Supima® brand. In addition, Crooked Brook designs and manufactures:
Uniforms: Men's and women's chef coats for the world's most recognized chefs, hotels, casinos, spas and resorts as well as alumni chef jackets for the Culinary Institute of America. Each garment can be personalized with the customer's choice of fabric, pockets, buttons, piping and embroidery. With a design studio in New York City, (the fashion and gastronomic capital of the world) and a production facility in Utica, New York, they've garnered international brand name recognition as the maker of the "World's Highest Quality Chef Jackets™".
Promotional products: Items, decorated apparel and accessories, such as jackets, hats, sweatshirts, hoodies, polo shirts, fleece blankets, sweatshirt blankets, button down shirts, fleece jackets, golf shirts, t-shirts, tote bags, and aprons that can be customized with the following apparel decorating methods:
Embroidery
Tackle Twill
Appliqué
Direct to Garment Printing (DTG)
Sublimation
Custom lab coats, uniforms and scrubs for nursing, medical, dental, scientific, engineering, technology & healthcare professionals.
Custom made apparel and accessories for men and women, including but not limited to: suits, shirts, Hawaiian shirts, pants, vests, dresses, skirts, gowns, jeans, boxer shorts, martial arts and yoga outfits.
Crooked Brook ships worldwide. Hours of operations are 7:00 a.m. to 7:00 p.m. EST, seven days a week. Reach them at (315) 733-1992 or visit http://www.crookedbrook.com/ to learn more.