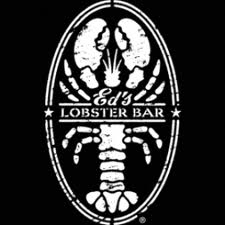 New York, NY (PRWEB) May 15, 2012
Chef Ed McFarland, owner of Ed's Lobster Bar and the newly opened Ed's Lobster Bar Annex, got together with Crooked Brook, makers of the "World's Highest Quality Chef Jackets™" to design and create his latest custom chef coats.
Although his previous chef jackets were made of 100% Cotton Petit Point Pique fabric, Ed wanted a fabric that would be cooler to wear, so they have chosen a 100% white seersucker fabric for his new look.
Chef McFarland has opted for chef coat style M100 with a left chest welt pocket and River Shell buttons.
Unlike Ed's other jackets, there is no embroidery on this one.
About Chef Ed McFarland, Ed's Lobster Bar and Ed's Lobster Bar Annex
New York City native Ed McFarland had never eaten a lobster until he was seventeen, but growing up in a family that was passionate about gardening and good food fostered his love of all things home-grown and delicious.
Ed's humble beginnings in Staten Island pizzeria kitchens were soon overshadowed as he moved on to work in some of New York's most esteemed restaurants. He graduated from the French Culinary Institute in 1995 and quickly began learning from some of New York's best, including Sotha Kuhn at Le Cirque and Dave Pasternak at Terence Brennan's Picholine. As he began to master cooking techniques, he became drawn to the delicateness and simplicity of seafood and eventually settled down at West Village mainstay Pearl Oyster Bar, where he worked as sous chef for over six years and deepened his knowledge of New England cuisine and Northeast seafood culture.
In 2007, Ed's long-awaited dream became a reality. Ed's Lobster Bar is the culmination of his years of study and apprenticeship combined with his family food experiences and dedication to garden fresh produce. Using his own home-grown vegetables and herbs in the summer months and drawing from his Italian heritage for specials like lobster meatballs, Ed has created a truly unique spin on New England seafood.
Those familiar with Ed's Lobster Bar's Nolita location will recognize the red lobster painted on the door and white Carrera marble — at Ed's Lobster Bar Annex where there are two bars, an eight-seater up front and an eighteen-spot raw bar in back; there's also a twenty-person backyard. The menu offers some Ed's favorites spun as small plates, including lobster-roll sliders and by-the-piece lobster ravioli, while the raw-bar selection ranges from five kinds of oysters to Littlenecks and shrimp cocktail. Hours will be Tuesday through Thursday, 6 p.m. to 11 p.m., Friday and Saturday noon to 2 a.m. and Sunday till 10 p.m., with Sunday brunch beginning after Labor Day. See the menu below and scope our slideshow for a glimpse of the space and the food.
Ed's Lobster Bar Annex, 25 Clinton St., nr. Houston St.; 212-777-7370
About Crooked Brook
Crooked Brook is part of the atelier division of an art studio that offers full service apparel design, pattern making, sample making, private-label small lot production and embroidery. Since 1989, they've built a strong reputation of providing top-notch apparel designs, patterns, fit and production samples for many brand name catalogs and retailers, as well as wardrobe and costumes for movies, television and theater.
All Crooked Brook branded garments and accessories are proudly made to order in the U.S.A.
Because of their unparalleled attention to detail in tailoring, they were awarded a Supima® licensing agreement. These contracts are not awarded lightly. The applicants must meet requirements insuring the highest level of quality and integrity for any products bearing the Supima® brand. In addition, Crooked Brook designs and manufactures:
Uniforms: Men's and women's chef coats for the world's most recognized chefs, hotels, casinos, spas and resorts as well as alumni chef jackets for the Culinary Institute of America. Each garment can be personalized with the customer's choice of fabric, pockets, buttons, piping and embroidery. With a design studio in New York City, (the fashion and gastronomic capital of the world) and a production facility in Utica, New York, they've garnered international brand name recognition as the maker of the "World's Highest Quality Chef Jackets™".
Promotional products: Items, decorated apparel and accessories, such as jackets, hats, sweatshirts, hoodies, polo shirts, fleece blankets, sweatshirt blankets, button down shirts, fleece jackets, golf shirts, t-shirts, tote bags, and aprons that can be customized with the following apparel decorating methods:
Embroidery
Tackle Twill
Appliqué
Direct to Garment Printing (DTG)
Sublimation
Custom lab coats, uniforms and scrubs for nursing, medical, dental, scientific, engineering, technology & healthcare professionals.
Custom made apparel and accessories for men and women, including but not limited to: suits, shirts, Hawaiian shirts, pants, vests, dresses, skirts, gowns, jeans, boxer shorts, martial arts and yoga outfits.
Crooked Brook ships worldwide. Hours of operations are 7:00 a.m. to 7:00 p.m. EST, seven days a week. Reach them at (315) 733-1992 or visit http://www.crookedbrook.com/ to learn more.