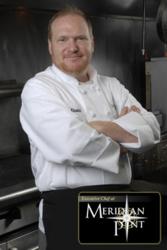 Love this place. It is the quintessential "local watering hole", but draws much more than just locals. In fact, I traveled far and wide to see if this place lived up to its hype. And it does." - Dana Y., Arlington, VA
Washington, DC (PRWEB) May 20, 2012
David Shewmaker, Executive Chef of Meridian Pint in Washington, DC has tapped Crooked Brook to make his custom chef coats.
Chef Shewmaker has chosen Crooked Brook chef coat style M100 in Black, 100% Egyptian cotton gabardine fabric, hand rolled black ball buttons, with a left sleeve welt pocket, Scholastic Yellow piping on the collar, both fronts and cuffs.
The Meridian Pint logo is embroidered on the left chest.
About David Shewmaker
David Shewmaker is the premiere Executive Chef for Meridian Pint in Columbia Heights. He was born and raised in St Louis, Missouri, trained at the Culinary Institute of America and has 25 years experience working as a chef.
His greatest love in life is traditional dance and music and his desire to keep both dancing and food close at hand, has led him to work in many cities.
He has a wide range of experience, working in three and four star restaurants in New York City (including La Grenouille and Restaurant Daniel ), private homes as a chef and butler, and also as Executive Chef of the well regarded dance and music retreat, Pinewoods Camp, in Massachusetts.
His experiences have provided him the opportunity to work with locally sourced and nationally distributed food for a diverse clientele.
About Meridian Pint
Meridian Pint was founded on the premise of environmental sustainability. Their strict focus on American craft beer allows them to eliminate the impact of Trans Atlantic shipping as well as maintain a locally based revenue stream. In addition, they serve mostly draft beer enabling them to reduce their impact on recycling resources. 'Envirelation', DC's first and only composting company, has been hired on to compost the bulk of their waste and reduce their impact on landfills to less than 10%.
Furthermore, much of the equipment, furniture, construction materials and design elements have been recycled or reclaimed. Their energy source comes from wind mill farms in the way of green energy credits. Finally, 95% of their staff lives within walking distance helping to minimize parking problems, traffic flow and overall reduce their carbon foot print.
About Crooked Brook
Crooked Brook is a unit of the atelier division of an art studio that offers full service apparel design, pattern making, sample making, private-label small lot production and embroidery. Since 1989, they've built a strong reputation of providing top-notch apparel designs, patterns, fit and production samples for many brand name catalogs and retailers, as well as wardrobe and costumes for movies, television and theater.
All Crooked Brook branded garments and accessories are proudly made to order in the U.S.A.
Because of their unparalleled attention to detail in tailoring, they were awarded a Supima® licensing agreement. These contracts are not awarded lightly. The applicants must meet requirements insuring the highest level of quality and integrity for any products bearing the Supima® brand. In addition, Crooked Brook designs and manufactures:
Men's and women's chef coats and uniforms for the world's most recognized chefs, hotels, casinos, spas and resorts as well as alumni chef jackets for the Culinary Institute of America. Each garment can be personalized with the customer's choice of fabric, pockets, buttons, piping and embroidery. With a design studio in New York City, (the fashion and gastronomic capital of the world) and a production facility in Utica, New York, they've garnered international brand name recognition as the maker of the "World's Highest Quality Chef Jackets™".
Promotional products: Items, decorated apparel and accessories, such as jackets, hats, sweatshirts, hoodies, polo shirts, fleece blankets, sweatshirt blankets, button down shirts, fleece jackets, golf shirts, t-shirts, tote bags, and aprons that can be customized with the following apparel decorating methods:
Embroidery
Tackle Twill
Appliqué
Direct to Garment Printing (DTG)
Sublimation
Custom lab coats, uniforms and scrubs for nursing, medical, dental, scientific, engineering, technology & healthcare professionals.
Custom made apparel and accessories for men and women, including but not limited to: suits, shirts, Hawaiian shirts, pants, vests, dresses, skirts, gowns, jeans, boxer shorts, martial arts and yoga outfits.
Crooked Brook ships worldwide. Hours of operations are 7:00 a.m. to 7:00 p.m. EST, seven days a week. Reach them at (315) 733-1992 to learn more.