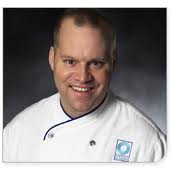 "My goal is to intrigue our guests' palates with the incredible nuances in seafood," he says. "I cook every dish with that idea in mind, catering to those bright and fresh flavors." - Ben Pollinger, Executive Chef of New York City's Oceana
New York, NY (PRWEB) May 19, 2012
Ben Pollinger, Executive Chef of New York City's Oceana will appear on the Today Show on NBC, Monday morning May 21, where he will be cooking with Kathie Lee and Hoda. Chef Pollinger will be wearing Crooked Brook chef coat style M101, made of White 100% cotton gabardine fabric, a left chest welt pocket, with Blue Suede piping on the collar, cuffs and pocket, and natural Abalone shell buttons.
Embroidery placement is as follows:
Left chest, above pocket: Oceana logo - Ben Pollinger, Black thread, Dauphine font
Presentation Apron Style #720, also made in White cotton gabardine fabric, with Blue Suede piping will finish the look.
About Ben Pollinger
Executive Chef Ben Pollinger leads New York City's Oceana with a distinctive style of cooking that artfully blends the finest seafood with the best ingredients from a global pantry. His creations express a dedication to seasonal products and classic technique with a vast array of flavor profiles.
"My goal is to intrigue our guests' palates with the incredible nuances in seafood," he says. "I cook every dish with that idea in mind, catering to those bright and fresh flavors."
In addition to maintaining Oceana's Michelin star for four consecutive years, Pollinger has received outstanding reviews from the New York Post's Steve Cuozzo and Crain's Gael Greene. In his three-star review, former The New York Times critic Frank Bruni called Pollinger's cooking "an exhilarating voyage," and in 2009, Sam Sifton of The New York Times named his Whole Curried Fried Pink Snapper one of the top 11 dishes of the year. Pollinger and his work have also been featured on programs like "The Today Show"; ABC News "Chef's Table", and Esquire named him a rising star chef.
A native of New Jersey, Pollinger graduated from the Culinary Institute of America in Hyde Park, NY, as class valedictorian and moved to Monte Carlo to work at the world-renowned Le Louis XV under Chef Alain Ducasse. Upon returning to New York, Pollinger worked for Chef Christian Delouvrier at Les Celebrites and Lespinasse. He spent more than seven years expanding his repertoire with Chef Michael Romano at Union Square Café and Chef Floyd Cardoz at Tabla. Throughout his early career, he developed his particular passion for seafood, intrigued by the broad variety of possibilities and the challenge of preparing delicate ingredients with subtlety and aplomb.
Through his work and extensive travels in France, Italy, and Spain, Pollinger has deepened his appreciation for seasonal ingredients and regional flavors. He gained a profound respect for the complexities that go into creating a stellar dish: the devotion of farmers to the soil and the fishermen to their day's catch; the thoughtful application of precise techniques to pure ingredients; and the exchange between chefs and the diners they host. As an avid gardener, Pollinger also finds inspiration for his 500-sqaure-foot organic garden at home in New Jersey, which often provides the herbs and spices that flavor his menus for Oceana. When he joined Oceana as executive chef in 2006, he brought with him the skills and desire to create an extraordinary dining experience based on this philosophy. Coupled with his kitchen leadership, Pollinger reflects the Livanos family's commitment to professionalism and excellence in hospitality.
Pollinger, a father of three children, donates his time to various charitable organizations outside of the kitchen, such as City Harvest, Share Our Strength, Autism Speaks, and the James Beard Foundation. He also serves on the Curriculum Advisory Committee at the French Culinary Institute and is an advisor to the Alaskan Seafood Marketing Institute and the Gohan Society.
About Crooked Brook
Crooked Brook is part of the atelier division of an art studio that offers full service apparel design, pattern making, sample making, private-label small lot production and embroidery. Since 1989, they've built a strong reputation of providing top-notch apparel designs, patterns, fit and production samples for many brand name catalogs and retailers, as well as wardrobe and costumes for movies, television and theater.
All Crooked Brook branded garments and accessories are proudly made to order in the U.S.A.
Because of their unparalleled attention to detail in tailoring, they were awarded a Supima® licensing agreement. These contracts are not awarded lightly. The applicants must meet requirements insuring the highest level of quality and integrity for any products bearing the Supima® brand. In addition, Crooked Brook designs and manufactures:
Uniforms: Men's and women's chef coats for the world's most recognized chefs, hotels, casinos, spas and resorts as well as alumni chef jackets for the Culinary Institute of America. Each garment can be personalized with the customer's choice of fabric, pockets, buttons, piping and embroidery. With a design studio in New York City, (the fashion and gastronomic capital of the world) and a production facility in Utica, New York, they've garnered international brand name recognition as the maker of the "World's Highest Quality Chef Jackets™".
Promotional products: Items, decorated apparel and accessories, such as jackets, hats, sweatshirts, hoodies, polo shirts, fleece blankets, sweatshirt blankets, button down shirts, fleece jackets, golf shirts, t-shirts, tote bags, and aprons that can be customized with the following apparel decorating methods:
Embroidery
Tackle Twill
Appliqué
Direct to Garment Printing (DTG)
Sublimation
Custom lab coats, uniforms and scrubs for nursing, medical, dental, scientific, engineering, technology & healthcare professionals.
Custom made apparel and accessories for men and women, including but not limited to: suits, shirts, Hawaiian shirts, pants, vests, dresses, skirts, gowns, jeans, boxer shorts, martial arts and yoga outfits.
Crooked Brook ships worldwide. Hours of operations are 7:00 a.m. to 7:00 p.m. EST, seven days a week. Reach them at (315) 733-1992 or visit http://www.crookedbrook.com/ to learn more.