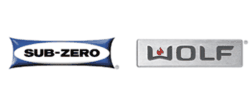 Sub-Zero and Wolf are complementary expressions of a single idea: the steadfast refusal to compromise.
New York, NY (PRWEB) May 30, 2012
Crooked Brook, makers of the "World's Highest Quality Chef Jackets™" was contacted by Coleman Teitelbaum, Executive Chef of Sub-Zero and Wolf to help design, cut and sew custom men's and women's chef coats for their corporate chef promotional appearances and other special events.
Chef Teitelbaum's chef coat is Style CBM101, made in White 100% Cotton Petit Point Pique fabric, with short sleeves, left chest tailored welt pocket, and natural Awabi shell buttons.
The women's chef jacket for Bridgitte Fouché, is a Style CBW100, made in White, 100% Egyptian Cotton Gabardine fabric with 3/4 length sleeves, left chest tailored welt pocket and Natural Awabi Shell buttons.
Embroidery placement on both jackets:
Left chest above pocket, 2 logo's side-by-side: Sub Zero and Wolf logo
Right chest in Metal, Serif 2 font:
Chef's Name
Corporate Chef
About Sub-zero and Wolf
Sub-Zero refrigerators, freezers and wine storage units are the definitive kitchen components. Made by hand. Tested to the nth degree. With innovative dual refrigeration.
Built to the same exacting standards, Wolf cooking instruments help give the fullest expression to your love of good food and the pleasure of preparing it. Wolf fuels your passion for cooking.
When Sub-Zero Freezer Company acquired Wolf in March 2000, kitchen design insiders uttered a collective "Aha!" It just made sense, this marriage of ice and fire, cold and hot. Sub-Zero and Wolf are complementary expressions of a single idea: the steadfast refusal to compromise. They are the brands for people who will have nothing less than the kitchen they have always wanted — an uncompromised kitchen.
Sub-Zero is the enduring symbol of the possibilities of what a kitchen can be, Wolf the symbol of all that the kitchen can do. Founded in 1945 and now in its third generation of family ownership and management, Sub-Zero forever changed kitchen design with the exceptional quality, beauty and innovative technology of its equipment.
For more than 70 years, Wolf has been synonymous with professional cooking equipment for restaurants and hotels. Now, as part of Sub-Zero, the Wolf line has been adapted for the serious in-home cook. With their superior performance and leading-edge design, Wolf instruments fuel a passion for cooking.
About Crooked Brook
Crooked Brook is a unit of the atelier division of an art studio that offers full service apparel design, pattern making, sample making, private-label small lot production and embroidery. Since 1989, they've built a strong reputation of providing top-notch apparel designs, patterns, fit and production samples for many brand name catalogs and retailers, as well as wardrobe and costumes for movies, television and theater.
All Crooked Brook branded garments and accessories are proudly made to order in the U.S.A.
Because of their unparalleled attention to detail in tailoring, they were awarded a Supima® licensing agreement. These contracts are not awarded lightly. The applicants must meet requirements insuring the highest level of quality and integrity for any products bearing the Supima® brand.
In addition, Crooked Brook designs and manufactures:
Men's and women's chef coats and uniforms for the world's most recognized chefs, hotels, casinos, spas and resorts as well as alumni chef jackets for the Culinary Institute of America. Each garment can be personalized with the customer's choice of fabric, pockets, buttons, piping and embroidery.
With a design studio in New York City, (the fashion and gastronomic capital of the world) and a production facility in Utica, New York, they've garnered international brand name recognition as the maker of the "World's Highest Quality Chef Jackets™".
Promotional products, items, decorated apparel and accessories, such as; jackets, hats, sweatshirts, hoodies, polo shirts, fleece blankets, sweatshirt blankets, button down shirts, fleece jackets, golf shirts, custom t-shirts, tote bags, and aprons that can be customized with the following apparel decorating methods:
Embroidery
Tackle Twill
Appliqué
Direct to Garment Printing (DTG)
Sublimation
Custom lab coats, uniforms and scrubs for nursing, medical, dental, scientific, engineering, technology & healthcare professionals.
Custom made apparel and accessories for men and women, including but not limited to: suits, shirts, Hawaiian shirts, pants, vests, dresses, skirts, gowns, jeans, boxer shorts, martial arts and yoga outfits.
Crooked Brook ships worldwide. Hours of operations are 7:00 a.m. to 7:00 p.m. EST, seven days a week. Reach them at (315) 733-1992 to learn more.