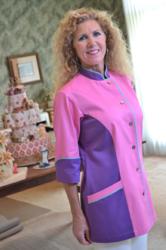 I would love to hear about your ideas and design choices and work with you to create your dream come true.
- Christine Cantrell
Georgetown, TX (PRWEB) June 02, 2012
Crooked Brook, maker of "World's Highest Quality Chef Jackets™", was contacted by Professional Sugar Artist and head of Custom Order Cakes, Christine Cantrell, to help her conjure up two custom chef coat designs.
The first coat was a Style BSW104 in Fuchsia 100% cotton twill fabric for the body, while the sides, collar and cuffs were done in Purple. 3/4 sleeves were decided on with two hip tailored welt pockets, Seaglass piping was run down the collar, front, cuffs, and bottom pocket welts.
Christine's second coat was also a BSW104, 100% Cotton Twill fabric, with the body in, Alaska Sky and the sides, collar and cuffs in Peacock. Sleeves are 3/4-length, with two front hip tailored welt pockets and have purple piping along the collar, front, cuffs, and bottom pocket welts.
Both jackets were complimented with Abalone Buttons.
About Christine Cantrell:
Christine lived in Lubbock, Texas for over 30 years, married and raised two children there. In 2006, she moved with her husband to Georgetown, Texas.
Cantrell has over fifteen years experience as a professional sugar artist, and is a member in good standing of the ICES organization, Capital Confectioners Cake Club of Austin and the Friendly Frosters Cake Club of Lubbock. She studied and trained for three years with nationally known master decorator and author Earlene Moore of Lubbock.
Chris has competed in several competitions, including the Oklahoma State Sugar Art Show-Wedding Cake Extravaganza, where she earned a bronze medals. In the Professional Division at The Llano Estacado Winery "Wine Chocolate Fantasia " Cantrell was awarded 1st place three years in a row, and Best of Show one year. She has won 2nd and 3rd place medals in the Professional Division at the Capital Confectioners 2006 and 2007 Cake Shows.
Christine's cakes have been featured in American Cake Decorating Magazine, Mailbox News Magazine, Modern Wedding Cakes Magazine-Australia, and the ICES Newsletter.
Some renowned sugar artists she has taken classes from include Rosa Viacava de Ortega of Brazil, Eleanor Rielander of South Africa, Marco Antonio Lopez and Sonia Escobar of Columbia, Nicholas Lodge of Atlanta, GA., Kerry Vincent of Tulsa, OK., Bronwyn Weber of Dallas, TX., Margaret Braun of New York, B. Keith Ryder of Virginia, and Earlene Moore of Lubbock, TX.
As a well trained professional, Chris has a very high standard of quality and excellence. She would love to hear about your ideas and design choices and work with you to create your dream come true. She will not do X-rated or "naughty" baked goods, however.
About Custom Order Cakes:
Custom Order Cakes takes orders for cakes and confections to compliment your special occasions and celebrations. They currently serve Georgetown, Cedar Park, Leander, Round Rock, Pflugerville, as well as the Greater Austin area and specialize in handmade sugar flowers along with custom designed cakes ranging from simply elegant designs to elaborate multi-tiered masterpieces of edible art.
About Crooked Brook
Crooked Brook is a unit of the atelier division of an art studio that offers full service apparel design, pattern making, sample making, private-label small lot production and embroidery. Since 1989, they've built a strong reputation of providing top-notch apparel designs, patterns, fit and production samples for many brand name catalogs and retailers, as well as wardrobe and costumes for movies, television and theater.
All Crooked Brook branded garments and accessories are proudly made to order in the U.S.A.
Because of their unparalleled attention to detail in tailoring, they were awarded a Supima® licensing agreement. These contracts are not awarded lightly. The applicants must meet requirements insuring the highest level of quality and integrity for any products bearing the Supima® brand.
In addition, Crooked Brook designs and manufactures:
Men's and women's chef coats and uniforms for the world's most recognized chefs, hotels, casinos, spas and resorts as well as alumni chef jackets for the Culinary Institute of America. Each garment can be personalized with the customer's choice of fabric, pockets, buttons, piping and embroidery.
With a design studio in New York City, (the fashion and gastronomic capital of the world) and a production facility in Utica, New York, they've garnered international brand name recognition as the maker of the "World's Highest Quality Chef Jackets™".
Promotional products, items, decorated apparel and accessories, such as; jackets, hats, sweatshirts, hoodies, polo shirts, fleece blankets, sweatshirt blankets, button down shirts, fleece jackets, golf shirts, custom t-shirts, tote bags, and aprons that can be customized with the following apparel decorating methods:
Embroidery
Tackle Twill
Appliqué
Direct to Garment Printing (DTG)
Sublimation
Custom lab coats, uniforms and scrubs for nursing, medical, dental, scientific, engineering, technology & healthcare professionals.
Custom made apparel and accessories for men and women, including but not limited to: suits, shirts, Hawaiian shirts, pants, vests, dresses, skirts, gowns, jeans, boxer shorts, martial arts and yoga outfits.
Crooked Brook ships worldwide. Hours of operations are 7:00 a.m. to 7:00 p.m. EST, seven days a week. Reach them at (315) 733-1992 to learn more.