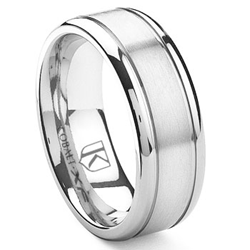 (PRWEB) March 01, 2011
Los Angeles, CA (PRWEB) March 1, 2011 -- Titanium Kay is proud to offer a new collection of cobalt chrome wedding bands that not only free consumers from the price constraints post by white gold jewelry but also brings durability to wedding jewelry that symbolizes eternity love.
Consumers who are thinking about purchasing gold jewelry in 2010 will find that the prices have increased substantially compared to 2009. In a July 19th report by Market Watch, the price for gold scheduled for August delivery was $1,180.40 an ounce. But just a month later on August 18, 2010 the Wall Street Journal reported that the price for gold set for delivery in December was $1,231.40 an ounce: this is the highest settlement since late June 2010.
While the rise in gold prices as well as silver and platinum presents an opportunity for investors, its impact on the jewelry trade is undeniable. And jewelers are passing on the increase in gold prices to retail consumers. But there are many jewelry designers who are now using contemporary metals to combat the escalating prices of gold, platinum and silver.
The newest jewelry crafting material to join this lineup of alternatives to high-priced metals is cobalt superalloy. It's the result of combining cobalt, a natural element found throughout the world, with other natural elements such as tungsten and molybdenum to produce a completely safe metal.
This metal is 100% hypoallergenic and scratch-resistant; it has a sophisticated look with density and strength. Of all the contemporary metals currently used, the bright white color of cobalt chrome is the closest to white gold making it ideal for wedding jewelry.
Here are a few facts about cobalt chrome alloy:
1) Cobalt rings are 5 times harder than white gold
2) Cobalt rings is priced at a about one third of white gold ring prices
3) Cobalt rings never lose the bright white color like white gold
The outstanding qualities of this metal make it perfect for jewelry shoppers who want the beauty of white gold and the best value for their money. Designed to the highest standards, the premium cobalt wedding rings collection being launched by Titanium Kay is a superior alternative to white gold and the ideal choice for the smart consumer.
# # #