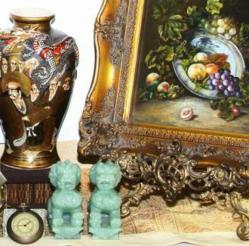 San Francisco, CA (PRWEB) October 28, 2011
Cobblestone Gallery has been a private supplier of antiques and collectibles since 2009 for a small, exclusive client base. Over the last two years Cobblestone Gallery has been growing and decided a new website was the next step.
"We have been asked more and more about handling small sales for individuals wanting to sell small collections," said Owner David Flores. "Now, through our website, we can handle select items on consignment." Flores highlights, "The people that consign with us are interested in finding a "home" for their personal belongings - not the fast buck. So we have time on our side to find the right buyer. It's a very different market we work with here." You can see this has a very direct relation to Cobblestone's own mentor.
Flores wants to offer an alternative to EBay by allowing collectors to sell items through his site. Flores wants to keep the feel of shopping in a local antique store, while still reaching collectors and enthusiasts around the world through his site. "It's more for Boutique consignments and not a mass produced outlet," Flores adds.
Through the e-commerce store, visitors will be able to purchase items from Cobblestone's own collection as well consignment items. Since they will handle the consignments personally, you are purchasing only in one place vs. dealing with various dealers. "You get the assurance your shipments will arrive and we back anything we sell. It's a comfort thing," says Flores.
For more information about Cobblestone Gallery and the art, antiques, collectibles and jewelry they carry, please them visit http://www.cobblestonecallery.com
###