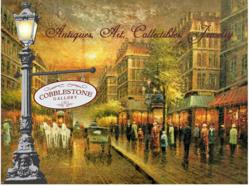 We can do no great things, only small things with great love.
-Mother Teresa
San Francisco, CA (PRWEB) December 29, 2011
Cobblestone Gallery owner says, "It's easy when you just decide to give to both of your favorite charities and that is exactly what we do, all year long." Cobblestone came out previously with their support of the ASPCA, so Mr. Flores was asked, why Children International too?
David Flores says, "Sponsoring this charity is not new to us, we have individually sponsored 2 children for almost 3 years. Watching them grow and knowing you have helped in shaping their young lives is especially rewarding. What is pocket change for many Americans can be the difference in having food to eat or vital medicine for one of these kids. Children International is close to our hearts."
Cobblestone Gallery uses its resources in order to give back to charities that are near and dear with the ultimate goal to help those that are in need. Cobblestone Gallery has donated time, money and products in support of the ASPCA and Children International. Each month Cobblestone sponsors a "charity pick" where 100% of the item purchase goes directly to the charity (nothing is deducted for costs or profit). It's an obligation Cobblestone Gallery feels everyone on this planet needs to do for others - whatever they can - no matter how little or how much.
When David was asked how does he make the the difficult decision on where Cobblestone Gallery donates its time or money? David said with exuberance, "When you are having trouble deciding, just give from your heart, no matter where you choose to give, it will be the right thing to do."
-excerpt from interview by Steve Jones-
Please visit Cobblestone Gallery at: http://www.cobblestonegallery.com
Your online shopping place for Antiques, Art, Collectibles, Jewelry.
# # #