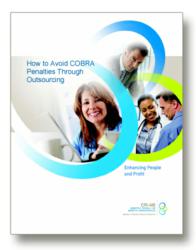 Solon, Ohio (PRWEB) June 29, 2011
A new guide, "How to Avoid COBRA Penalties Through Outsourcing," explores COBRA violations and the value of placing COBRA administration in the hands of experts who regularly deal with compliance matters.
Dealing with COBRA can be confusing and difficult given the number of legislative changes in the health and benefits industry. It is the company's responsibility to comply with any legislation modifications. Failure to do so can result in serious penalties. It is important for employers to have "subject matter experts" upon whom they can rely.
With CPI-HR's complimentary guide, you can learn the benefits of outsourcing COBRA administration, get a better handle on potential COBRA violations and much more.
The How to Avoid COBRA Penalties Through Outsourcing guide is available here:
http://cpihr.com/cobra-administration-outsourcing
The COBRA outsourcing guide provides tips and detailed information on the following:

What's Involved in COBRA Administration
Selecting a Third Party Administrator
Benefits of Outsourcing COBRA Administration
Common COBRA Violations
Contact an experienced Third Party COBRA Administrator today.
About CPI-HR
Headquartered in Solon, Ohio, CPI-HR's complete service offering include employee benefits brokerage and consulting, payroll/HR services, and COBRA, HRA, HSA and FSA Administration. Additionally, CPI-HR provides robust HR Technology that offers clients the ability to bring efficiencies to their human resources department, which frees up time to focus on more strategic HR responsibilities. Services like these that help CPI-HR's clients make their employees more profitable and aware. CPI-HR is the exclusive Ohio Smart Partner® member and is a Platform Agency of Benefit Advisors Network. For more information, please visit: http://cpihr.com
# # #