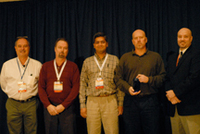 "Benefit Concepts has shown exceptional innovation in leveraging Pervasive Data Integrator™ and Pervasive Integration Hub™"
East Providence, RI (PRWEB) November 22, 2010
Benefit Concepts was selected as the winner in the "Best Healthcare Solution" category in this year's InnovatioNEXT program, and the company was recognized with the award on November 3, 2010 at the annual Pervasive IntegratioNEXT conference in Austin, Texas. Pervasive CTO and General Manager, Integration Products Mike Hoskins presented the award, noting, "Benefit Concepts has shown exceptional innovation in leveraging Pervasive Data Integrator™ and Pervasive Integration Hub™ to support automation and scalability for import and extract processes on a wide array of customer HR and payroll data in a range of formats. Benefit Concepts implemented Pervasive Integration Hub to automate file acquisition, decryption, exception notifications, transformations, and integration into its applications, delivering powerful productivity impact and vastly enhanced scalability and accuracy leveraging end-to-end process automation."
Now in its fourth year, the annual Pervasive InnovatioNEXT awards program recognizes Pervasive partners and customers who demonstrate ingenuity, leadership and best practices in applying Pervasive data innovation technology to their business and technical challenges. Nominations in the various categories come from customers, partners and employees. The nominations are evaluated by a panel of Pervasive executives, with recognition going to the winner who best exemplifies innovation in action within their category.
About Benefit Concepts, Inc.
Benefit Concepts, a leader in benefits administration outsourcing, is located in East Providence, R.I. For more than twenty years Benefit Concepts has been a provider of outsourced services including: COBRA/HIPAA Administration and Compliance, FSA/HRA Administration and more recently Active Employee Enrollment & Administration. Benefits Concepts' Total Benefit Administration solution provides both clients and participants with a single, state-of-the-art, web based portal from which they can manage any and all of their benefits administration tasks. Benefit Concepts employs more than 250 employees and services over 550 clients of a national scope including: Nokia, University of Idaho, Dunkin Brands, Blue Cross of MA, Volkswagen N.A., and Chubb & Sons. For additional information, go to http://www.benefitconcepts.com.
About Pervasive Software
Pervasive Software (NASDAQ: PVSW) helps companies get the most out of their data investments through agile and embeddable software and cloud-based services for data management, data integration, B2B exchange and analytics. Pervasive's multi-purpose data integration platform, available on-premises and in the cloud, accelerates the sharing of information between multiple data stores, applications, and hosted business systems and allows customers to re-use the same software for diverse integration scenarios. For more than two decades, Pervasive products have delivered value to tens of thousands of customers in more than 150 countries with a compelling combination of performance, flexibility, reliability and low total cost of ownership. Robin Bloor, Chief Research Analyst and President, The Bloor Group and Founder, Bloor Research, recently cited Pervasive as one of the "10 IT Companies to Watch in 2010." For additional information, go to http://www.pervasive.com.
###