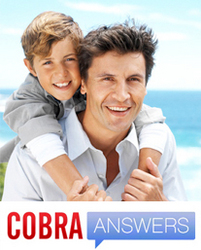 San Francisco, CA (PRWEB) March 26, 2009
With new COBRA legislation passed and unemployment numbers continuing to rise, consumers are searching for answers about COBRA benefits and the new stimulus package. The new COBRA subsidy, part of the American Recovery and Reinvestment Act (ARRA), seeks to temporarily alleviate the high cost of maintaining an employer-provided health insurance plan through COBRA. For a period of nine months, the COBRA subsidy will cover 65% of a consumer's COBRA premium costs, with only 35% coming out-of-pocket for a consumer. This recent change has prompted Americans to search for information and answers around the legislation, COBRA and what the best health insurance options are for individual and family needs.
A new website, COBRA-Answers.com, provides consumers a resource into the changes of COBRA's continuation of health coverage. COBRA-Answers.com offers consumers an overview of the history on COBRA as well as up-to-the-minute news and research on the recent legislation. The website currently offers a free download of an in-depth consumer guide to COBRA, including the recent COBRA legislation and what it means for Americans without health coverage. COBRA-Answers.com gives consumers a clear look at COBRA costs versus those of private health insurance plans and ultimately helps them decide which healthcare solution is best for them. The site is updated frequently with the most recent COBRA news, research, and consumer responses to the changing COBRA landscape.
Consumers Searching for Key COBRA Information in an Accessible Format
Unemployment rates have continued to skyrocket as the United States sinks further into recession. According to the United States Department of Labor, the unemployment rate in the United States increased by 851,000 in February 2009 to reach a total of 12.5 million. During the past year the unemployment rate has grown by 5 million, rising a total of 3.3% to the current unemployment rate of 8.1%. With the recent legislature passed affecting COBRA and continuing health insurance, it can be difficult to find a simple, clear explanation of COBRA and how it affects the lives of Americans. With so many individuals struggling with losing their jobs and worrying about maintaining their health care, having a clear-cut understanding of health insurance options is crucial.
COBRA-Answers.com seeks to provide answers to the most commonly asked questions about COBRA's continuation of health insurance. The website offers consumers helpful and detailed charts outlining price comparison of COBRA versus traditional purchased health insurance plans. It will offer helpful tips for consumers trying to save money in the current economy and gives a clear scope of the unemployment situation and statistics in the United States.
Changes in COBRA Affecting Consumer Insurance Decisions
The ARRA was passed in February 2009 by the Obama administration and made significant changes in COBRA's continuation of health insurance coverage. It is vital for consumers to understand how this new legislature affects their health insurance choices. The ARRA will cover 65% of COBRA costs for the recently unemployed for 9 months. This 65% is first paid by an individual's former employer, who is then reimbursed by the government. This coverage only applies to those who were terminated involuntarily, so those who quit their jobs would not be eligible. Terminated employees who previously declined COBRA coverage back to September 1, 2008, can reconsider and take advantage of this new subsidy.
COBRA May Be Unrealistic and Expensive for Consumers
Is this new legislature enough to make COBRA affordable for the recently unemployed? According to a report released in January by the non-profit group Families USA, the average unemployment income for both an individual and a family is $1,278 per month. The cost of one month's COBRA premium for a family is $1,069. This indicates that 83.6% of a family's unemployment check is being spent on continuing health insurance, leaving little left for other expenditures such as a mortgage or rent, food and other bills. An individual spends less per month on a COBRA premium, averaging $388, or 30.4% of their monthly unemployment income. This new COBRA subsidy would help reduce costs for families and individuals by cutting costs up to 1/3, but for less than a year. While this subsidy may help in the interim, securing a job in the 9-month time frame might not be realistic given the struggling economy and rising unemployment . Many privately purchased health insurance plans can average around $218 a month, according to a study by the Kaiser Family Foundation. This is less than one would be paying with the subsidy for COBRA coverage, and the cost of the premium wouldn't skyrocket after a 9-month period. COBRA's new subsidy might appear attractive, but if consumers are interested in protecting themselves and their family for the long run, it is important to consider all available options.
About COBRA-Answers.com
COBRA-Answers.com is a new website whose goal is to provide consumers with continuously updated information on COBRA health insurance options and alternatives. Consumers seeking COBRA information and health insurance quotes can enter their information and within minutes have an accurate quote provided based on their health history and profile. The site provides accurate and easily understood information about the recent changes on COBRA legislation, enabling consumers to feel confident in making informed decisions about their health insurance options. COBRA-Answers.com offers heavily researched statistics and trends for both COBRA continuation of health coverage and private health insurance plans, effectively establishing itself as a one-stop-shop for information about COBRA and COBRA alternatives.
# # #