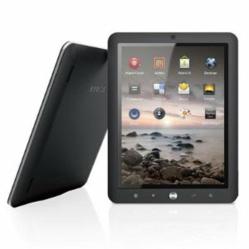 Denver, Colo. (PRWEB) January 16, 2013
The tablet market now features a vast array of products and tech specs at competitive prices, particularly when it comes to the budget tablets category.
According to the company buyers are often discouraged to look at tablets priced under $150 because of the anonymity of brands and overall tech specs uncertainty. http://www.FindMyPrice.net is constantly reviewing the budget tablet market, offering discounts and reviews for the least renowned tablets, such as Coby Kyros.
The budget tablet market is constantly updating and releasing new products, with tech specs that are very appealing for the buyer looking for a cheap quality product. Coby Kyros is at the top of the list when it comes to tablets priced under $150, offering a satisfactory experience for the price tag and its tech specs.
At 0.50 by 10.37 by 6.40, Coby Kyros falls in the big screen tablet market. It runs Android 4.0 (or more recent) and operates on a Fujitsu 1GHz A110 processor, offering an in-built 1GB DIMM RAM memory. The actual storage available for this $129.99 tablet is 8GB (2GB for user apps and 4.6GB for user content), but the device features a microSD and microSDHC slot that can expand it to 32GB.
The 10-inch budget tablet features a tight screen that performs well with 1080p High Definition videos and offers a battery life of 6 to 7 hours. Coby Kyros 10.1 connects to the Internet via a Wi-Fi 802.11bgn network as well as via a mobile hotspot.
Find My Price is a leading price comparison platform for electronics available with online retailers. The website offers discounts on products such as tablets and headphones up to 30 percent. The main focus, however, of Find My Price is delivering accurate reviews for electronics, ranging from Mp3 players to smartphones, tablets and laptops, as well as DVRs and TVs.
The price comparison platform delivers a special focus to the tablet market, which has evolved significantly over the past years, making it harder for buyers to make a safe purchase. The reviews for tablets available on Find My Price pertain to both premium and cheap products and include a checklist of the main factors buyers are usually interested in when making an IT purchase: OS, battery life, processor speed, screen quality, Internet speed and connectivity, HD video playback, camera and gaming performance, as well as app and content potential.
Find My Price strives to help buyers find the lowest prices available with online retailers and purchase the product that meets their expectations the most.