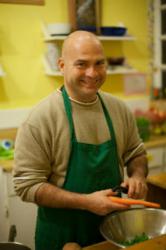 It gives an excellent introduction into Ayurvedic nutritional theory, along with a self-exam so that you may determine your dosha.
Miami, FL (PRWEB) April 11, 2013
"El libro de cocina ayurvédica" now available in Spanish through Escuela de Ayurveda de California. The book is published by Ayurmed.
El libro de cocina ayurvédica (The Ayurvedic Cookbook) gives a fresh new perspective on the ancient art of self-healing. It includes over 250 taste-tested recipes are specifically designed to balance each constitution, with an emphasis on simplicity, ease and sound nutrition. Recipes range from exotic Indian meals to old American favorites. Amadea Morningstar, M.A., a Western trained nutritionist, and Urmila Desai, a superb Indian cook, are both well-versed in a variety of healing traditions. The book includes an in-depth discussion of Ayurvedic nutrition, tridoshic perspectives and ways to make dietary changes that last.
Ayurmed is also the publisher in Spanish of Ayurveda y la mente by Dr. David Frawley (Ayurveda and the mind) and Dr. Marc Halpern ¿Cómo sanar su vida? (Healing your life).
Ayurveda is "The Science of Life". It is the healing science from India and has been practiced for over 5,000 years by millions of individuals to assist the body in journeying back to optimal health. Ayurveda views health and disease as the end result of how we interact with the world, in terms of our beliefs, perceptions, thoughts, and feelings, which then ultimately determine our actions. Actions in harmony with our inner nature create health, while those dis-harmonious with our inner nature create disease.