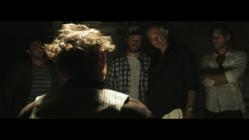 After working with this team on the promotional shoot, I have nothing but confidence that cockroaches will be non-stop entertainment from start to finish
- Zach McGowan (Shameless, Terminator Salvation)
Los Angeles, CA (PRWEB) May 18, 2012
Roachtown is an independent production company formed by Benjamin Morris and Ryan de Quintal. Roachtown has acquired the film Cockroaches and plans to finance a portion of the production using Kickstarter as a web-based funding platform.
"Roachtown is eager to begin working on Cockroaches," stated Benjamin Morris, Producer with Roachtown. "This dark, action comedy is well written and with the Guy Ritchie-esque style director and story teller, Christoffer Aldell, the film will be nothing less than amazing." Cockroaches is a unique and original film. The promotional trailer displays the fast-paced, gritty, style that the final production of Cockroaches will provide. Pre-production for Cockroaches to begin summer 2012.
"Shooting the trailer for Cockroaches was nothing less than a fun filled and professional working environment: great director, great crew, great actors, and a great story. I have recently seen the trailer and I can't wait to be in the film", actor Luke Massy. Roachtown, like Luke Massy, sees the possibilities of this professional promotional trailer and ventures to support the creation of this film.
"When shooting the promo for Cockroaches I was extremely impressed with Christoffer's directorial skills and the ingenious ways he made use of the limited resources he had at his disposal", Actress Maria Olsen. Roachtown supports Christoffer Aldell's talents as he furthers the success of the Cockroaches promotional trailer and creates an impactful, crime comedy.
Roachtown is utilizing Kickstarter, a web-based crowd funding platform for creative projects, to raise money for production of Cockroaches. On the Kickstarter page, Tommy "Tiny" Lister, Zach McGowan, Luke Massy, Robert Miano, Maria Olsen, Ryan de Quintal, David Ury, and Robin Zamora star in the promotional trailer for the new movie. "We (Cockroaches) appreciate and value every single backer. We are hoping to build and extend our family through this Kickstarter campaign", said actor and Roachtown producer, Ryan de Quintal. Roachtown's objective by including Kickstarter is to build a fan base as well as funds.
"Cockroaches has the potential of being really successful" actor, Zach McGowan. Film enthusiasts or interested investors can view the promotional trailer and Kickstarter campaign here.
Roachtown is a production company created by producer Benjamin Morris and actor/producer Ryan de Quintal. Roachtown works with an arsenal of industry professionals to produce in-house films as well as outside projects developed by others.