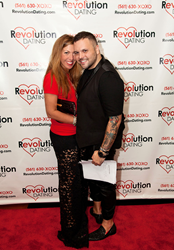 Tri-County Animal Rescue and Discrimination Free Zone do such important work in the community, and we are so proud to be sponsoring this event for the third year in a row.
Delray Beach, FL (PRWEB) November 07, 2016
Top Florida matchmaking service Revolution Dating is proud to once again be sponsoring the annual Cocktails for Canines Bachelor Auction, taking place Thursday, November 10 at Salt7 in Delray Beach. This popular event will benefit two worthy causes in 2016: the no-kill, nonprofit Tri-County Animal Rescue, and Discrimination Free Zone, a foundation that works to end discrimination through the creation of inclusive environments.
Cocktails for Canines' main event, the date auction, will feature an exclusive lineup of gorgeous bachelors, including celebrities Robby Hayes, Vinny Ventiera and Nick Benvenutti from The Bachelorette.
The event begins at 7 p.m. and will also include a silent auction and raffles throughout the night with first, second, and third place gift baskets. For a $20 entry, guests will receive a complimentary drink, appetizers and access to all of the evening's entertainment.* A portion of bar sales will be also donated to both charities.
Also featured will be Revolution Dating's signature red carpet and photo shoot at the event entry. Attending singles interested in finding love can visit the company's events table to learn more about the renowned matchmaking program, its history of success using a rigorous qualification process and personalized coaching services, and its upcoming lineup of diverse events.
Last year, Cocktails for Canines raised $16,000. Third-year sponsor Revolution Dating, along with fellow sponsors Salt7, Worthing Place, VMA Studios, and Grimes Events and Party Tents hope to increase that amount this year.
"Cocktails for Canines has it all – attractive men, two incredible causes and lots of eligible singles, all at one of our absolute favorite venues," said Kelly Leary, Revolution Dating Founder and President, an industry expert with 25+ years of experience and Master's Degree in Clinical Psychology. "Tri-County Animal Rescue and Discrimination Free Zone do such important work in the community, and we are so proud to be sponsoring this event for the third year in a row. We hope everyone will join us for this amazing event that let us all give back while having a great time!"
This community event kicks off an exciting November for Revolution Dating, which will host an array of themed dinner parties and special events for its members throughout the close of the year, in addition to its private one-on-one matching and various client coaching services. A favorite among Florida singles, Revolution Dating was called the "hottest dating club in town" by Nostalgic America Magazine and Founder Kelly Leary has been recognized as "The Florida Matchmaker" by Think Magazine and PBG Lifestyle Magazine.
For more information on how to gain access to these upcoming events and join the exclusive dating service, interested singles should contact Revolution Dating today at 561-630-XOXO (9696).
About Revolution Dating 
Revolution Dating is an exclusive Florida matchmaking service that helps single, divorced or widowed men and women find friendship and romance. With clients ranging from Vero Beach to Broward County, the company goes far beyond online dating and hosts a wide variety of events and provides individually tailored matchmaking and coaching. Reach Revolution Dating by phone at 561-630-XOXO (9696) or online at http://www.revolutiondating.com. Consultations are available by appointment only at 5090 PGA Boulevard, Suite 208, Palm Beach Gardens, FL 33418.
*Tickets and raffle tickets may only be purchased with cash.