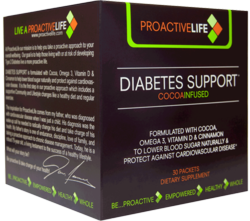 "Taking cinnamon could be useful for lowering serum HbA1C in type 2 diabetics with HbA1C >7.0 in addition to usual care." Paul Crawford MD
Ranch Palos Verdes, CA (PRWEB) December 28, 2011
Cinnamon can be useful in reducing A1c levels for people with Type 2 Diabetes, this according to a study published in the Journal of the American Board Family Medicine. Type 2 Diabetes is on the rise with nearly 26 million confirmed diabetics and 79 million pre-diabetics in the Unites States. Spending on diabetes will exceed $170 billion in 2011 according to US government statistics.
A new company called ProactiveLife (http://www.proactivelife.com) utilizes pure cinnamon to lower blood sugar naturally and protect against Type 2 diabetes. ProactiveLife was started to help people with chronic disease improve their health by incorporating community, lifestyle changes, and natural supplements clinically proven and conveniently packaged to assist in one's overall being.
Diabetes Support contains 10 clinically proven ingredients to lower blood sugar naturally including cocoa, cinnamon, omega-3, vitamin D and others. Along with lifestyle changes including diet and exercise Diabetes Support is a new proactive approach to Type 2 Diabetes management. A Community of Experts has been created to share tips on healthy eating, proper exercise and provide the latest news on diabetes
Over 79 million people and growing are at risk of developing Type 2 Diabetes; a new approach combining lifestyle modification and clinically proven natural supplements utilizing a proactive approach is needed.
By James Lowenstein
ProactiveLife
http://www.proactivelife.com
###