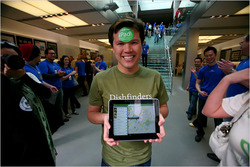 "This app is cool because it shows you a pic of what the food actually looks like instead of just text. As they say, a picture is worth a thousand words." - Jimmy Batka, Dishfinders user
San Francisco, Calif. (PRWEB) April 7, 2010
Cocoafish Inc., a San Francisco-based mobile application development firm, made its long-awaited public debut the new iPad version of its Dishfinders mobile application at a downtown San Francisco Apple Store on Saturday to coincide with the release of the iPad.
The Cocoafish team was on location at the Apple Store on Saturday morning to promote the release of the iPad application, give product demonstrations, meet fans, and conduct interviews with the press. The iPad app, which allows international users to search for and review specific dishes ranging from tacos to sushi to pizza to foie gras from any restaurant in the world, received media coverage from top online news syndicates and industry blogs including The San Francisco Chronicle and TechCrunch.
Cocoafish co-founders Michael Goff and Wei Kong arrived at the Apple store early Saturday morning to meet and greet the hundreds of iPad customers who were waiting in line to make their purchase. Goff and Kong could be seen throughout the day walking through the immense crowd with an iPad, allowing customers to demo the Dishfinders application, giving out free stickers and speaking with journalists.
According to Goff, "It was great to have the chance to share our product with so many new, enthusiastic iPad users. People seemed very receptive to the app's capabilities, and very eager to download a version of their own. I can't wait to see the response from Saturday's debut."
Indeed, the response since the Saturday's unveiling at the San Francisco Apple store has been significant. In just four days, Dishfinders has leaped to a top spot in Apple Store's "Free iPad Travel Apps" chart and has increased its rate of downloads to several hundred per day. Additionally, Cocoafish has reported that membership has increased significantly since Saturday, and now spans across 20 countries. The Dishfinders iPad app was also featured in a Search Engine Journal review of the "most significant" search related iPad apps available to the market. Dishfinders was included in an elite list of eight of the iPad apps that, according to author Arnold Zafra, "you might want to check out."
Saturday's iPad debut also provided the Cocoafish team the opportunity to meet and interact with their growing fan base. According to Goff, Dishfinders fans have been an integral part of the application's growing success because of their willingness to provide excellent feedback, which plays an invaluable role in the continued innovations and enhancements for the product.
The Dishfinders iPad and iPhone app is now available for free download on the Apple App Store. Whether running on the iPad or iPhone, the Dishfinders application offers the same features to users, including the ability to:

Navigate the Google Maps feature to select where you want to search for restaurants and dishes
See all of the dishes that have been reviewed by users at restaurants all over the globe
Select links to other popular food and restaurant review websites with additional information about the restaurant of your choice
View comments from other Dishfinders reviewers and from hundreds of other popular review websites
Submit photos and reviews of food with ratings and comments
Dishfinders, the latest mobile application to be released by Cocoafish, was co-created by Goff and Cocoafish co-founder Wei Kong with the aim of providing iPhone and iPad users with a convenient, dynamic way to find local restaurants that serve their favorite dishes. Goff, a successful iPhone application entrepreneur and former Sun Microsystems platform software engineer, conceived Dishfinders after he recognized the need for mobile users to easily search for food they really want to eat. While many other applications and websites provide text-only reviews about the entire restaurant, Dishfinders is one of the few mobile applications that allows the user to search for specific menu items and browse photos of dishes served at restaurants.
But Dishfinders' recent success and growing popularity can be attributed to more than just the application's global reach and functionality, Goff believes. The primary feature of the application is its ability to socially engage with fellow food critics by reading and posting reviews of dishes, even as the dish is being eaten. Says Goff, "The iPad app and latest version of the iPhone app allow users to submit photos and rate dishes whether they love them or hate them. Objective, unfiltered, user generated content is what makes our product so compelling and useful for our user base. We expect dish reviews and user interaction to grow significantly over 2010."
Cocoafish plans throw an official iPad app launch party on Saturday, April 24th at an undisclosed location in San Francisco. To receive updates on the time and location of the Dishfinders iPad app release party, email Cocoafish at info@cocoafish.com.
Download the Dishfinders iPad and iPhone app for free at the Apple store or become part of its growing user community by visiting the Dishfinders Facebook Fan Page, or following [Dishfinders on Twitter to receive product updates and incentives. You can also visit the Disfhinders website to read all of the Dishfinders iPad App release media coverage.
Cocoafish, Inc. was founded in January 2010 with the vision of building the foundation for the next generation of mobile apps and social networking websites. The company's open, standards-based Cocoafish mobile application development platform effectively eliminates the need for iPhone and iPad developers to provision and maintain hardware, storage, databases, and application stacks. The Cocoafish Platform, which will be available in beta form to the public in the early summer of 2010, also provides an easy to use API, which can be integrated into any networked software product.
Cocoafish, Inc. is based in San Francisco, CA. Learn more about Cocoafish products and services as well as upcoming iPhone and iPad application development projects at Cocoafish.com.
###