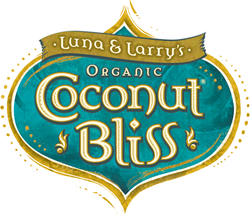 'We are excited to introduce Coconut Bliss to the growing customer base that is seeking organic, non-GMO and allergen-free foods. We strive to make a product that meets many different dietary needs.' – Marc Donofrio, Director of Sales
Eugene, Oregon (PRWEB) March 05, 2014
Proving that organic food is no longer solely the realm of the health food store shopper, Luna & Larry's Coconut Bliss is proud to announce that a conventional supermarket chain based in Pennsylvania will be adding their dairy-free, soy-free and gluten-free coconut milk based ice creams to store shelves. Shoppers looking for ice cream alternatives will be pleased to find Coconut Bliss as part of the expanding natural food selections in many mainstream stores.
Coconut Bliss currently offers 15 flavors in pints and 4 flavors in novelty bars with plans to continue diversifying their product line. All of their products are dairy-free, soy-free, gluten-free, certified organic, Non-GMO verified, Kosher Pareve and use Fair Trade certified ingredients whenever possible.
"We are excited to introduce Coconut Bliss to the growing customer base that is seeking organic, non-GMO and allergen-free foods. We strive to make a product that meets many different dietary needs." – Marc Donofrio, Director of Sales, Luna & Larry's Coconut Bliss
Luna & Larry's Coconut Bliss is available across the U.S and Canada. In the Eastern U.S. Coconut Bliss can be found in Whole Foods, Acme, Food Town, Wegmans, Giant Eagle and independently owned natural food stores and co-ops.
About Bliss Unlimited
Bliss Unlimited, LLC was founded to create a satisfying ice cream without the health and ecological impacts associated with dairy, soy, or gluten. Coconut Bliss® is the evolution of ice cream.
USDA-certified organic and Non-GMO verified, Coconut Bliss® is based on cholesterol-free coconut milk that is packed with lauric acid and medium-chain triglycerides (MCTs), and sweetened with naturally low-glycemic agave syrup. The company values ecological and social sustainability, and strives to use the highest quality and most ethically produced organic ingredients it can find. It is privately owned and based in Eugene, Oregon, and has been operating since February 2005. For more information about Coconut Bliss® products and where to buy it, visit coconutbliss.com.