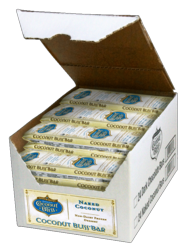 Coconut Bliss on a stick, ready to be eaten.
Eugene, OR (PRWEB) May 20, 2012
Creamy and delicious Dark Chocolate and Naked Coconut dairy-free frozen dessert bars are now available in a retail-convenient 24-pack box. The 24 frozen treats in each box are individually bar-coded so customers can purchase as many as they like. Coconut Bliss bars are perfect for picnics and parties with no scooping necessary. They're great for kids of all ages, and make it easy to have some "Bliss" to go. On a hot summer's day, it's hard to resist the satisfying coolness of creamy Coconut Bliss on a stick, ready to be eaten the moment it's purchased.
About Bliss Unlimited
Bliss Unlimited, LLC was founded to create a satisfying ice cream without the health and ecological impacts associated with dairy, soy, gluten, or sugar. As a healthful whole food, consciously prepared from nutritious, natural, and beneficial ingredients, Coconut Bliss® is the evolution of ice cream. USDA-certified organic and 100 percent vegan, Coconut Bliss® is based on naturally rich, cholesterol-free coconut milk — which is packed with lauric acid and medium-chain triglycerides (MCTs) — and agave syrup, a natural low-glycemic sweetener. The company values ecological and social sustainability, and strives to use the highest quality and most ethically-produced organic ingredients. Privately-owned and based in Eugene, Oregon, they have been in operation since 2005. For more information about Coconut Bliss® products and where to buy them, visit http://www.coconutbliss.com.