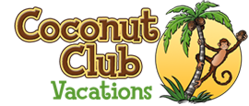 Miami, Florida (PRWEB) February 14, 2013
Coconut Club Vacations is known throughout the industry as being one of the highest quality vacations clubs, and this company continues to live up to their reputation with the introduction of cruise discounts. Vacation clubs are popular for travelers that wish to have an affordable travel destination, by staying in condos and minimizing travel costs.Coconut Club Vacations recognizes the savings that travelers receive when staying in condominiums, but has now introduces cruise discounts so members can have a variety of vacations to choose from.
Coconut Club Vacations has excited member by introducing deals on cruises where travelers can save up to 50 percent off. Through an exclusive membership at Coconut Club Vacations, travelers can browse an inventory of cruise ship cabins much like they search through inventories at resorts. When a member finds a cruise that they want to take, they can book the trip just like they would book a trip to a resort. Members are excited that they are now able to choose from even more options when they are selecting where to travel on their vacations.
Coconut Club Vacations also recommends that travelers start thinking of cruises as an extremely affordable travel option, which is why this travel club is offering cruise discounts. Travelers may not think of cruises as affordable, but these vacations are an all-inclusive treat that travels to several exotic locations. Now, members can enjoy traveling on different cruise lines at the lowest rates possible through their membership benefits at Coconut Club Vacations. Travelers are excited that they get to experience all of the excitement of a cruise, at the most affordable prices in the industry.
Coconut Club Vacations is one of the premiere travel clubs in the industry due to this company's focus on providing the best travel deals to members. This opens up many opportunities for travelers who previously thought that they couldn't afford luxurious vacations. Travelers get the option of searching through vacant room inventories at some of the top resorts in the world, which allows members to get the best deals on the market. Travelers are also excited about all of the upcoming savings that they will receive through cruise packages. This is an exciting year for members of Coconut Club Vacations that are planning vacations to exotic places for a fraction of the price.
****
Coconut Club Vacations:
Phone: 877-309-3048
Fax: 877-572-0205
Website: http://www.coconutclubvacations.com