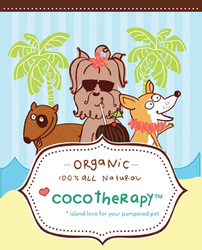 Farmers in the Philippines give excess coconut chips to their livestock
Geneva, IL (PRWEB) August 11, 2009
Chances are, within the last year or more, you have read an article or heard news about the benefits of coconut oil or coconut products. No longer novel news, coconut oil provides multiple benefits that are prompting some experts to dub it as the "miracle oil". Serious animal lovers and holistic devotees, Charisa Antigua and Carmina O'Connor, founders and owners of Oscar Newman® LLC, are quite knowledgeable about the benefits of coconut oil for dogs. As avid coconut advocates, they are launching CocoTherapy™ a line of organic coconut products for pets that rivals the best human-grade coconut products in the market today.
"We have known and experienced the benefits of virgin coconut oil and coconuts as a whole, for years," Antigua said. "Being originally from the Philippines, which is the largest coconut oil producer in the world, our families have used it for generations. Coconut is used as a diet staple, and it is hard to ignore the tremendous benefits that our family and pets have experienced for countless of years."
Aside from taking the virgin coconut oil themselves, Antigua and O'Connor give it to their pets. They also give pure, organic coconut chips as treats. "Farmers in the Philippines give excess coconut chips to their livestock", said O'Connor, and laughingly added, "And we have never seen healthier, more shiny-coated farm animals anywhere". In addition, Antigua's pets see a very well-known holistic vet in Illinois who recommends virgin coconut oil for her allergic Yorkie and hypothyroid, kidney-compromised cat.
Currently the CocoTherapy™ brand offers organic virgin coconut oil for pets and coconut chips for pets, made purely of dehydrated, organic coconut meat. Coconut chips are an excellent source of dietary fiber and provide the same benefits as coconut oil, when fed as a treat. Both products are 100% natural and human-grade.
What exactly is in coconuts that make it so good for your pet? Coconut is comprised primarily of a medium chain fatty acid called Lauric acid and is considered responsible for many of its health benefits. The only other abundant source of Lauric acid found in nature is in human breast milk. When Lauric acid is synthesized by the human or animal body, it produces the same substance, monoglyceride monolaurin that keeps infants from getting viral, bacterial, or protozoal infections. Lauric acid, synthesized into monolaurin is used to fight and destroy viruses and various pathogenic bacteria, protecting your pets against infection and boosting his immune system. Coconut oil also contains capric and caprylic acid, which have similar properties and are best known for their antifungal effects. Like lauric acid, capric acid can also help balance insulin levels.
"We have numerous personal experiences of how coconut oil has helped our allergic, hyporthyroid, or overweight pets." Antigua stated. "There have also been many compelling studies and articles done on the benefits of coconut oil for dogs, including an extensive article in The Whole Dog Journal that was published in Oct. 2005, that support these claims. In order to truly reap the benefits of coconut oil, you need to consistently use the best quality virgin oil you can find."
Antigua and O'Connor realize that there are other brands of coconut oil available, but they also know that know that there are many levels of quality and different ways to produce and manufacture coconut oil. Because they consider their pets as important members of their family, they wanted to provide them with the very best coconut oil available, manufactured in the absolute highest standard in the industry. Their strong connections to a country considered a leader in coconut production enabled them to find the very best coconuts available.
CocoTherapy™ virgin coconut oil and coconut chips come from fresh organically grown coconuts, grown in a USDA certified organic coconut farm. Furthermore, they are harvested and manufactured under the highest standards in the industry. CocoTherapy™ is 100% natural, human-grade, and ensures pet owners that they are giving their pets the best coconut oil and coconut flakes available.
CocoTherapy™ will be launched at Pet Fashion Week in NY this August 22-23 and will be ready for pre-orders. The company expects to ship the products to stores by September 2009.
To learn more about CocoTherapy™ organic virgin coconut oil and coconut chips, please visit http://www.CocoTherapy.com.
About the company:
CocoTherapy™ is owned by Oscar Newman® LLC. Oscar Newman® LLC is an Illinois-licensed limited liability company, based in Geneva, IL. Oscar Newman® LLC is a luxury pet couture company that designs and develops accessories and clothing for small dogs. Oscar Newman LLC is committed to providing the very best products for pets, improving the quality of life for pets, and providing excellent customer service to all our customers.
# # #