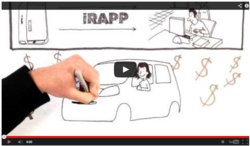 Kahului, HI (PRWEB) June 13, 2013
Code Rebel, a leading company behind remote desktop connection for Mac and PC, has recently released a compelling whiteboard video that details the advantages of its iRAPP server management system and explains how iRAPP can help businesses. The video covers how anybody from college students to workers in health care clinics can benefit from using iRAPP.
"Code Rebel is pleased to present this enlightening and compelling video to individuals who might benefit from our iRAPP," said a Code Rebel representative. "We are very passionate about iRAPP and its capabilities, and we hope that with this video, others can see how it can revolutionize the way they work between computers."
This informative whiteboard video spells out the benefits of the software and how iRAPP is one of the best remote desktop services available. The video brings the real issue in the sharing of information and data between platforms. It also outlines how an individual can create a private virtual server within his or her own home.
Code Rebel realizes the need to eliminate the clutter of two keyboards, two sets of mice, two monitors, and other distractions from the office and home setting. The company hopes that the video will inspire others to reevaluate their computing situations to save time and improve efficiency.
About Code Rebel:
Code Rebel is a customer service oriented entrepreneurial company that considers themselves rebellious software engineers. Many companies create products and solutions first and then try to market and sell those products as best as they can. Code Rebel prides themselves on innovative software products with the customer's needs in mind. Their goal with every new design or innovation is to save time, reduce complexity, improve efficiency, and increase user's flexibility by deploying the right combination of software and services. For more information, visit them on the web at http://www.coderebel.com/.