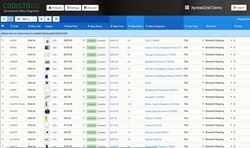 Create 10,000 eBay listings free in seconds
London, UK (PRWEB) September 28, 2015
Codisto Go, next generation turbo listing software for eBay, will be launched at the UK eCommerce Expo in London. It provides eBay sellers with the fastest and simplest way to create professional eBay listings on any of the 23 eBay marketplaces worldwide by quickly adding or importing up to 10,000 products from a spreadsheet - for free.
"We are very excited to make Codisto Go available to all eBay users globally," said Jonathan Pollard, CEO Codisto. "Codisto Go is a next generation eBay multi listing tool that offers unparalleled ease of use. Our XpressGrid user interface is unique and makes managing eBay listings incredibly fast and simple."
Codisto Go slashes the time and eliminates the difficulty of listing items on eBay. By automatically categorizing products into the best eBay categories on a professional eBay sales template, Codisto Go allows eBay sellers to list thousands of items on visually spectacular eBay listings in seconds.
"Codisto Go uses the core technology that was developed for Codisto Connect, our eBay integration plugin for Magento that has seen overwhelming success due to its simplicity and reliability," Jonathan said. "Adding a spreadsheet integration tool was a natural extension of our product portfolio and allows millions more eBay sellers to create and manage listings with incredible speed and simplicity."
Codisto Go's clever automation of labour-intensive tasks and intuitive user interface design means Codisto Go is ideal for professional or casual eBay sellers. Users can create up to 10,000 eBay listings free, one-time (excluding any applicable eBay fees & taxes). Ongoing management and creating additional listings costs just US$19 per month with no setup fees. Codisto Go is elegant, flexible and scalable. Codisto's next generation integration solutions benefit the entire ecommerce ecosystem as merchants quickly and easily, sell more online.