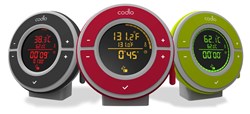 Codlo is every bit how I imagined a sous-vide device should be - and more.
- The Food Canon
London, England (PRWEB UK) 25 June 2013
Minimizu has announced launch details for Codlo - a sous-vide controller designed for home cooking. Easy to use, compact and affordable, Codlo brings commercial-quality precision to home cooks. Upon launch, Codlo's Kickstarter crowdfunding campaign can be found at http://get.codlo.com.
Sous-vide (pronounced "soo-veed"), a cooking technique popular with high-end restaurants, utilises precise temperature control to cook food to exact specifications. A method popular with top chefs such as Thomas Keller, Ferran Adria and Heston Blumenthal, sous-vide is gaining traction amongst enthusiastic cooks. However barriers to wider adoption include high prices (£250 and above), complicated controls, and bulk.

Sleek, compact design: No kitchen counter space is needed - Codlo plugs directly into the wall socket. Its design has also won praise from food writers, such as The Food Canon's Terry Wong, who wrote that "Codlo is every bit how (he) imagined a sous-vide device should be - and more".
Intuitive and easy to use: The focus on the home cook also is shown in Codlo's user interface. "A brilliantly simple culinary technique like sous-vide must have an intuitive user experience for it to work in a home setting," said Minimizu's co-founder Grace Lee. "By pairing Codlo your existing devices, home cooks can cook sous-vide without fiddling with complicated settings." This video shows Codlo in action.
Patent-pending technology: Although designed for home use, Codlo has commercial-quality precision. The Fluid™ technology in Codlo automatically adapts to each individual cooker's characteristics for accurate temperature control, without the need for manual adjustment or setup.
Affordability: At £99, Codlo is several times more affordable than existing home sous-vide products. "There are 3 requirements to cook sous-vide: a vessel to contain water, a heating element and a temperature regulator," said Minimizu's co-founder Xi-Yen Tan. "Since most home appliances already have the first 2 characteristics, we focused on creating a better temperature control system that works with all these appliances. The result is Codlo's patent-pending Fluid™ algorithm that learns and adapts to each compatible cooker for optimal temperature control."
"Codlo enables affordable sous-vide cooking by leveraging the power of existing appliances, without sacrificing our core principles of design and quality. It works best with a simple, analogue rice or slow cooker."
Codlo will be available in 3 colours: Firebrick Red, Lime Green and Graphite. It also comes in UK, US or Europe-style plug variations.
The Codlo Kickstarter campaign will be launched on the June 28, 2013 at 5pm BST (9am PDT, 12pm EDT) at £99 each. A very limited number of Codlo sous-vide controllers will be available at £69 and £89 for early backers only.
Interested parties are encouraged to sign up on Kickstarter.com prior to the Codlo's launch to be the first to pre-order, and get the latest updates on Codlo through Facebook.
Copyright 2013 Minimizu Ltd. All rights reserved.