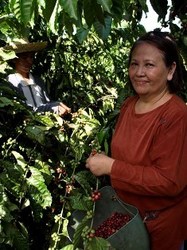 Farming is all about nurturing and giving birth or fruition to life. It's a life-giving vocation. That's why the first pick is a reason to celebrate
The Philippines (PRWEB) April 9, 2010
Nestlé Philippines, Inc. makes a breakthrough innovation in the manufacture of coffee in the country with NESCAFÉ Classic First Pick, a limited edition coffee made from coffee beans selectively picked by farmers whose passion and dedication are unquestionable. Follow the story of Quirica Cadava, one of the coffee farmers in the Philippines as she shares her secrets to a quality first pick harvest for NESCAFÉ.
Coffee farmer Quirica Cadava of Butuan province wakes up every dawn with so much enthusiasm. She has been counting the days until she could finally harvest the ripe coffee cherries with love and care. She smiles in content as she sees how her passion and dedication have resulted in a good harvest this year.
For Cadava, the early morning sight of coffee cherries - all red, ripe and glistening as they hang from the dew-covered coffee trees, all awaiting harvest as the first pick of the season - is a source of wonder, hope and inspiration.
"The first pick signals the start of our answered prayers and blessings," says Cadava in Cebuano. She has been a coffee farmer since 2003. "It appeases our worries, and assures as that the long wait is over."
Cadava, her husband and three children moved to Sitio Bagong Silang in Agusan province in 1998. At first, they planted rice and corn in their two-hectare farmland but the earnings they got from selling their produce were barely sufficient for their needs. The couple decided to grow coffee in hopes of earning extra income.
Eventually, Cadava's husband took up the training course at the Nestlé Experimental and Demonstration Farm (NEDF), a non-profit teaching and training center based in Tagum City that offers free extensive coffee specialist training. The NEDF also sells coffee planting materials produced using Nestlé technology at cost price.
Through the years, the Cadavas have been able to expand their farm to 15 hectares. In this farm, they harvest corn, coconuts and coffee.
"Farming is all about nurturing and giving birth or fruition to life. It's a life-giving vocation. That's why the first pick is a reason to celebrate - it's a chance to give life and better opportunities to the family, the workers and the community," says Cadava in her native Cebuano.
Help Querica Cadava and other Filipino farmers harvest their future by bringing home a jar of the 2010 Special Limited Edition NESCAFÉ Classic First Pick.
Look for the unique code at the back of the jar and log on to "http://www.nescafe.com.ph/firstpick" Key-in the code to learn more about the journey of your coffee and to adopt a coffee seedling that will benefit a local coffee farming community. To know more about NESCAFÉ Classic First Pick, call the Nestlé Care Hotline 898-0061.
###