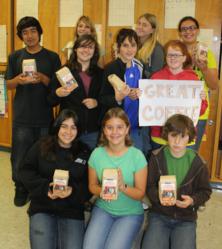 Our company, FundraisingCoffee.com, is a business with a social mission
Eureka, CA (Vocus/PRWEB) July 11, 2011
These days, American schools are in crisis. Since 2008, revenue shortfalls have forced many states and local school districts to make drastic cuts in school funding. Many schools will be forced to lay off teachers and eliminate programs such as after-school activities, electives, sports and music. In order to ensure the survival of so many worthwhile programs, parents, teachers and students must rally the support of their communities through fundraising programs and donations. FundraisingCoffee.com has launched a new website to help schools obtain much-needed funds by offering gourmet artisan coffee at below wholesale cost, in bags branded with the school logo and colors.
"Our company, FundraisingCoffee.com, is a business with a social mission," says managing general partner John Hall. "Kids need our help. A lot of really important school programs we've always taken for granted are disappearing for lack of funds. We'd rather see household coffee budgets going to support schools than grocery store chains. Our hope is that someday we'll all be buying our coffee from the kid next door."
This year, school and PTA fundraising will be more necessary than ever to help soften the blow of so many drastic budget cuts. FundraisingCoffee.com has a simple and effective PTA fundraising idea to allow schools, sports teams, music and arts programs, and a host of other school activities across the country raise thousands of dollars quickly. FundraisingCoffee.com offers six different coffees, hot chocolate and vanilla spice chai mix at below wholesale cost. Their free design services include custom labels featuring the school logo or mascot and colors. The program is remarkably effective, with the proceeds for 200 participants, each selling 10 bags of coffee, equaling $10,000.
Recent studies show that nearly 60% of U.S. households buy coffee. Drinking 400 million cups of coffee each day, Americans are the leading consumers of coffee in the world. Unlike frozen cookie dough, candy, and other junk food products that many fundraising efforts peddle, fundraising coffee is an easy way to raise money because it's a product that millions enjoy daily.
The new FundraisingCoffee.com website makes enrollment easy, providing access to a comprehensive toolkit of forms, selling tips, and other resources designed to help schools raise as much money as possible. Visitors to the new website or the company's Facebook page can find answers to their school fundraising questions and read about the successes of other fundraisers like themselves. There are no upfront costs and participation is free.
The coffee fundraising program was first developed in 2003. It began as an effort to help a group of middle school students earn enough money to pay for travel expenses as foreign exchange students in Japan. Several of the kids earned more than $1,000 each. Since that time, the program has helped hundreds of other groups raise money through this unique school fundraising idea.
"The coffee fundraiser was so easy to sell as most parents drink coffee. This was a product that they will actually use. Not only was it an easy sale, but the coffee was incredible. This was our second year, and sales almost doubled," said Leslie, a representative from Valadez Middle School Academy in the Los Angeles area. "This was such an easy way to raise money! I look forward to doing business with you for years to come!"
For more information about this effective fundraising campaign, visit FundraisingCoffee.com or http://www.facebook.com/pages/FundraisingCoffeecom/167072833356344, or call them directly toll-free at (888) 302-1121.
About FundraisingCoffee.com, LLC
FundraisingCoffee.com, LLC is a small coffee company with a big mission: to help schools, nonprofits and other worthy causes across the country raise funds by offering custom-labeled bags of small-batch, high-quality artisan coffee, along with hot chocolate and chai tea at below wholesale prices. FundraisingCoffee.com has all the resources needed to create an effective, lucrative campaign for school fundraising, PTA and PTO fundraising, sports team fundraising, and more.
###