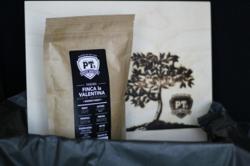 Incredible coffee that entices with a Floral fragrence, notes of Citrus Blossom, Lime, White Grape and Tropical Fruits in the cup.
Topeka, KS (PRWEB) July 22, 2011
PT's Coffee Roasting Co. introduces Finca La Valentina Aristar Agririo Geisha variety coffee, winner of the Best of Panama coffee competition for 2011.
Finca La Valentina, grown in the mountains near Boquete Panama, won first place by defeating the famed Hacienda La Esmeralda Geisha by a 1/2 point in the competition. La Valentina features flavor notes of white grape, lime, citrus blossom and honey suckle with a very complex finish in the cup. This is a rare coffee, (Geisha is an heirloom variety native to Ethiopia) with only limited amounts available in the United States.
In 2007, the "Brothers Osorio," Benjamin and Efrain Osorio purchased the farm Finca La Valentina and began the process of developing the crop and improving the vitality of the farm. Today, Finca La Valentina is one of the best farms in Panama growing Geisha coffee that was originally introduced to the farm in the 80's.
PT's coffee buyers met with Benjamin Osorio following the families victory in the B.O.P. Competition and quickly agreed to work together to market the coffee in the United States through a Direct Trade relationship. "We are very proud to have this outstanding coffee and to work with such a wonderful family," said Jeff Taylor, PTs Coffee Roasting Co. CEO, "We are also offering a package that includes both the Finca La Valentina and the Hacienda La Esmeralda Geisha in a custom gift box."
These rare coffees, Finca La Valentina Aristar Agririo Micro-Lot and Hacienda La Esmeralda Micro-Lot Montaña will be available in the gift box or 8 oz packaging packaging separately.
PTs Coffee Roasting Co. has been offering some of the world's finest coffees since 1993 and roast to order in Topeka, Kansas. Known for roasting exceptional quality coffees for their wholesale customers and world class barista training, PTs continues to develop as one of the finest roasting company's in the United States.
Mission: Great coffee, lifelong friendships, and the wisdom to appreciate both.
# # #