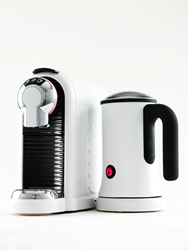 "Starbucks original vision was brilliant: give coffee lovers in the States a café-quality experience...but, in my opinion, it's turned into a bit of an impersonal and expensive 'assembly-line' experience."-Adam Lupa, CEO
San Francisco, CA (PRWEB) June 25, 2014
Xpressivo is proud to announce the unveiling of its new company website, Xpresssivo.com, as it also announces to the world its emergence as a new player in the digital subscription, single-serve coffee space.
The new Xpressivo site, which reflects the company's modern, sleek, and straightforward aesthetic when it comes to its wide array of premium coffee products, provides detailed information regarding coffee machine features and benefits, state-of-the-art-functionality, and its convenient (but affordable) coffee subscription concept – along with a complete menu of Xpressivo's imported, single-serve, coffee capsules.
Boasting six distinct roasts, which range from the extremely mild, to a delicious decaf, to a masterful and profound "oscuro", each Italian-made blend is custom-crafted, from methods used by roasters in Italy for over a hundred years. The coffee featured in the initial Xpressivo line of brews is made from some of the finest fair trade and sustainability certified beans in the world. Xpressivo is pursuing its goal of making gourmet single-serve coffee easy and affordable for everyone by offering top-tier coffee makers at deep discounts to customers who select a monthly coffee delivery plan.
The first of these machines is the sophisticated, compact Xpressivo X1 coffee machine which can brew espressos, lattes, and more in under a minute – just with the touch of a button. The beauty of the X1 is that it provides something for every palate and every taste. From bold, hearty blends, to tasty cappuccinos, or even a single, 10-ounce pour, the range of coffee this machinery provides quickly turns anyone into an in-house barista. That, in addition to the convenient, monthly delivery service, will make any home the most popular café on the block.
According to Xpressivo Founder and CEO, Adam Lupa, "The Xpressivo website is practical in its delivery of key information, making it easy for anyone to select and customize their machine and coffee preferences. More importantly, it also represents an original and different way to 'do coffee.' The site really is a mirror image of the company and our philosophy. While it's nice to look at and is filled with awesome products, it also reminds us that coffee is an integral part of all our lives." Lupa goes further to comment, "Imagine any family dinner, holiday gathering or lazy, weekend morning… each of those moments – and hundreds more – can and should be centered around coffee when it's easy to make and serve."
Lupa's vision in founding Xpressivo was inspired by visits to family in Italy, where café-quality espresso is affordable and available on practically every street corner. His mission upon returning home was clear: he wanted to provide the same quality and accessibility – minus the cost, long lines, and lack of personalization – to all people.
"Starbucks original vision was brilliant: give coffee lovers in the States a café-quality experience," says Lupa. "But, in my opinion, it's turned into a bit of an impersonal and expensive 'assembly-line' experience. And, with the emergence of single-serve technology, I felt there was a huge opportunity to let anyone enjoy café-quality experience with friends and family, anytime of day – and do so in a more affordable way."
Believing the main obstacle to this is the over-priced cost of both retail coffee and premium single-serve machines, he set out on mission and is now finally starting to see the future: 'affordable single-serve coffee for all'… and a 'democratization' of one of the most loved beverages on the planet.
To learn more about Xpressivo, the company mission, the new XI machine, and the varied assortment of premium, Italian-coffee blends, please visit: http://www.Xpressivo.com.
All media inquiries, please email: press(at)xpressivo(dot)com
About Xpressivo
Xpressivo, based in San Francisco, CA, is an innovative start-up company founded and driven by a mission – to offer and deliver quality, affordable, and delicious coffee to all people. With six, hand-roasted, Italian blends, and machines regarded as best-in-class, Xpressivo is poised to become the most talked-about start-up over every coffee-break in America.
For additional information, please visit http://www.Xpressivo.com.