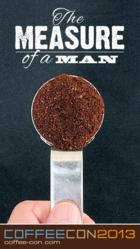 Coffee is too important to leave solely in the hands of the trade. Like America's founding, I want CoffeeCON to be an event by and for the people – people who drink coffee, not just sell it.
Warrenville, IL (PRWEB) April 17, 2013
Consumer coffee authority Kevin Sinnott has created the first ever international consumer coffee conference to be held, perhaps ironically, in the sleepy Chicago suburb of Warrenville, Illinois. He unveils year two of CoffeeCON 2013, a special day-long happening on Saturday, May 4th, from 9 a.m. to 5 p.m., at the IBEW building, 28600 Bella Vista Parkway.
This is an opportunity to journey into the world's most amazing coffee varieties from around the world and learn about brewing, and even roasting, in every style imaginable. Top world amateur and professional coffee experts will present a wide variety of seminars and hands-on labs. Attendees will sample the world's best beans and experiment with the latest brewing equipment. Exhibitors will include many high-end coffee roasters, coffee equipment manufacturers, coffee farmers and innovative coffee products. A fine selection of bands and folk artists will entertain all presented by Chicago Acoustic Underground.
Local restaurant food and free foodie treats will be available. The event is $15 with online registration; but space is limited, and those who show up unregistered will pay a $20 onsite entrance fee. To see the schedule of coffee classes and to reserve tickets, go to Coffee-CON.com Swag bags filled with coffee goodies will go to the first 1000 people through the doors.
Warrenville resident Kevin Sinnott, nationally recognized coffee expert and author of two books about coffee, will host the event that is drawing coffee authorities and corporate exhibitors from around the world. "This promises to be the ultimate coffee brewing event. I've learned so much, and I've had a great desire to share this knowledge with others. The web has brought a coffee information boom. Yet, we need to taste, see and touch all the available beans and gear – and we need to meet each other. What better way than to bring industry leaders, expert amateur icons, the top ten coffee bloggers and manufacturers all together to mingle and share with passionate coffee drinkers," Sinnott said. "I know everyone who comes will learn so much and be absolutely awed by the experience."
Sinnott's consumer advocacy does not exclude large manufacturers. Springfield-based BUNN will be there to introduce the company's it's new revolutionary consumer coffee brewing method called "trifecta," which will allow consumer to touch, play and taste. Unlike any other on the market, this machine attempts to automate the best of several manual brewing methods through built-in computer controls for time, temperature, water pressure and turbulence.
Top-notch industry professionals and amateur coffee mavens will teach featured coffee seminars and hands-on classes. Attendees will travel the world in a day learning Turkish coffee, Vietnamese coffee, Cuban coffee and explore the history of Viennese coffee houses presented by Julius Meinl complete with pastry.
Hands-on labs in Siphon brewing, Chemex brewing, AreoPress brewing and French Press will be taught. Try them all and taste your results. Cup of Excellence will be presenting the Oscar of Coffees and consumers will be able to taste test award winning coffees that sell in the $30 to $40 price range. Counter Culture Coffee will be presenting a wide variety of classes on everything from environmental issues in Save Our Soil on how to build and use a small road-worthy coffee brewing kit. Advanced technical sessions will include everything from water for brewing to proper grinding methods.
Class sessions will be geared toward a dialog with participants to grow knowledge that will maximize their inhome coffee experience. Coffee classes run all day, with most classes 30 minutes long. This event is a mini coffee university.
Our presenters are top notch and include George Howell, pioneer of the specialty coffee movement in the 1970s, founded The Coffee Connection, a high-end coffee retailer in Boston that was acquired by Starbucks. He later founded the George Howell Terroir Coffee Company. An expert on single-origin coffee, he will talk about coffee tasting and methods that enhance the coffee experience.
Oren Bloostein, founder of Manhattan's iconic Oren's Daily Roast coffee shops, holds the title of Roaster of the Year by the Specialty Coffee Association of America. He will offer Coffee 101 as well as provide a practical consumer survival guide to enjoying the best.
Christy Thorns is Director of Sourcing and Quality Control for Colorado based Allegro Coffee Company, a subsidiary of Whole Foods Markets. She began her coffee career at Allegro in 1994 as a roaster and expanded her coffee background as a trainer, traffic manager, barista, and buyer. Christy oversees green coffee and tea sourcing, producer relationships and quality control. She travels frequently to coffee producing countries to source and develop partnerships with growers in 22 countries. Christy is brilliant about coffee and will present on the topic of sustainability.
Not all experts are from the coffee business. Amateur espresso coffee expert Jim Schulman, whose perfectionism caused him to build his own espresso coffeemaking machine, will demonstrate to aspiring home baristas how to make their own café-quality espresso.
Another renowned amateur, Scott Marquardt, modified a Weber gas grill and will instruct on the definitive home coffee roasting in an outdoor roasting lab with assortment of other home roasters. Consumers can ask for a free bag of freshly roasted beans while supplies last during the day.
The nation's top coffee bloggers will be on hand to report from the show, including Portland's Robert Caruso, Jason Coffee, Coffee Nate, Jenn Chen, The Coffee Detective and so many more. The entire event will be live streamed to the world for those consumers who can't attend. Consumer's tweets and photos will display instantly on a big screen directly from the show floor adding to the social media fun.
Host Kevin Sinnott has authored two comprehensive coffee books. His latest, "The Art & Craft of Coffee," will be available at the event. Sinnott shook the established coffee world when he published The Coffee Companion consumer newsletter, the first of its kind that is still considered a coffee collectable. An outsider with no formal coffee education, Sinnott's reviews of coffeemakers proved a hit with consumers. His blessing on various coffee products affected sales, causing manufacturers to both love and fear him. Now moved to the Coffee Companion Blog and Twitter handle @CoffeeKevin, Sinnott continues to deliver cutting-edge unfiltered coffee reviews and irreverent but honest perspectives.
Asked why as a consumer Sinnott has the audacity to create an event of this size and scope, he says, "Coffee is too important to leave solely in the hands of the trade. Like America's founding, I want CoffeeCON to be an event by and for the people – people who drink coffee, not just sell it."