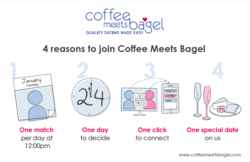 "When you are meeting with people who share mutual friends, people definitely take it more seriously and carefully."
- Soo Kang (Co-Founder of Coffee Meets Bagel)
New York, NY (PRWEB) February 15, 2012
In a city that never sleeps, meeting new people may be easy. But in reality, is it really? Meeting quality people who are interesting, reliable and available - sounds too good to be true. Most of us rely on our existing network- friends and acquaintances to make new connections. However, the frequency of this happening is just not enough. Some may retreat to traditional online dating sites but the tedious process and horror stories are intimidating.
Two sisters in New York have taken this matter into their own hands. Arum Kang and Soo Kang recently founded CoffeeMeetsBagel.com, a free online dating service that delivers one exclusive introduction for each member, every day at noon. The twist: both parties have up to 24 hours to "LIKE" the match or to pass. If both parties "LIKE" each other they can immediately exchange text messages on a private line, without revealing their phone numbers. Once they decide to go on a first date, CMB (Coffee Meets Bagel) will have a venue with a complimentary gift ready in which the members can choose to go to or not.
"Everyone is so busy in the city which makes it harder to meet people," said Arum Kang who recently moved back to New York after graduating from Harvard Business School. CMB simplifies and does the work for these busy New Yorkers. "We cut out public profiles, email, winking, all that clutter," said Co-Founder Soo Kang. It takes less than 5 minutes to sign up for CMB's services with a 3-step registration process via Facebook Connect. It's that quick, easy and most importantly reliable.
These matches are not random. They are made through the most trustworthy and sensible source- through your friends and their connections. "Knowing who we know in common definitely gives me more context about the person and also something to talk about," said Soo Kang. "When you are meeting with people who share mutual friends, people definitely take it more seriously and carefully."
Valentine's Day is not the only day for a romantic date. CMB has partnered with NYC's hot spots, such as Pierre Loti and XaiXai to award complimentary gifts on first dates to newly connected members. Those New York singles that were too busy to seek someone for yourselves on Valentine's Day - you're just a click away in finding someone just like you. Have CMB help you fabulous New York singles to connect and who knows what will come next.
We welcome coffee shops, wine bars and new venues interested in working with Coffee Meets Bagel to contact us at 917-574-8082 or email arum(at)coffeemeetsbagel(dot)com.
For more information please visit: http://www.coffeemeetsbagel.com
# # #