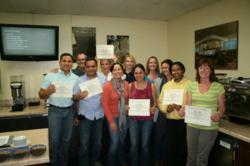 According to CNBC reporter, Scott Wapner, "coffee is a national obsession. Americans drink over 400 million cups of it each day and coffeehouses are the fastest growing part of the restaurant industry."
(PRWEB) October 12, 2012
ILBA Coffee School is guiding their students to success in one of the most actively traded commodities in the world; more than $100 billion worldwide. According to Global Exchange, "coffee is the world's second most valuable traded commodity with twelve billion pounds of coffee consumed annually and the United States alone having over 130 million coffee drinkers."
No other barista training or coffee school comes close to how much Ivy League Barista Academy offers. Their coffee school will not only teach their students how to do latte art, like other schools, rather will guide them on how to run their own business efficiently and effectively. Their secret? The personable, well rounded and experienced coffee training staff. They're coming to each barista student with experience in opening over 500 coffee businesses for large franchises as well as individual owners, worldwide.
The most effective and popular class option at their coffee school is the 5 day business management class. This class teaches the fundamentals of managing, marketing, operating and successfully growing a coffee business while expounding on proper barista techniques.
If the five day class is not what the barista is looking for, then their coffee school offers a three or four day coffee training class option. The 4 day coffee training class focuses on the fundamentals of advanced barista training techniques while the 3 day coffee training focuses on introductory drink preparation techniques. The students at ILBA coffee school will cover a variety of disciplines, all hands-on, in drink preparation, latte art, espresso extraction and milk texturing.
After the students have attended one of the class options, they will have the luxury of requesting a private trainer if they feel they need just a little more hands-on experience. The future coffee business owners will work one-on-one with an experienced consultant developing their drink menu, personalizing drink recipes, and developing business management strategies. This day is extremely valuable whether they are a first time business owner or an existing cafe owner looking to develop new tastes and improve current business practices.
The final class option ILBA Coffee School offers is for those looking to roast coffee or do home roasting. Their 2 Day Roasting Workshop is hands-on, combining the art and science of roasting, focusing on coffee profiles, moisture content testing, finding defects, and much more.
Each of ILBA Coffee School's intensive hands-on courses exposes their students to the necessities and techniques of managing a coffee business, while training them how to navigate through those pesky yet crucial government bureaucracies. In addition to the five day coffee training class, a business plan package or a lease negotiation package will be given at no additional cost, to help further their process of opening a coffee business.
Students will leave their coffee school equipped to take on every aspect of a growing and ever-changing industry. Learning from the trainers past mistakes will allow the students to make all of the right moves, the first time. When they leave ILBA Coffee School they will have the knowledge of how to open a coffee business, the confidence in managing and obtaining the skills and connections to successfully running their own coffee business. Individuals worldwide are making their entrepreneurial dreams come true by signing up for barista training at ILBA Coffee School. Sign up today. ILBA Coffee School runs classes monthly and limits 10 students per class.
October's training class will be held on the 22nd-26th and has 3 seats left. This will be the last class they offer for 2012. The next class will be January 21st-25th, and seats are filling fast. Visit the ILBA Coffee School website today to take part in the ever-growing industry.