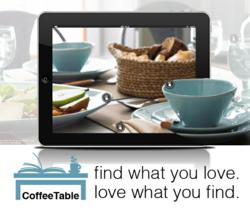 The new retina display will greatly increase engagement as shoppers almost subconsciously absorb more detail, and products seem to pop from the pages of CoffeeTable HD Catalogs
San Francisco, CA (PRWEB) March 16, 2012
The new iPad, the third version of Apple's revolutionary tablet device, debuts in US stores today. Product reviews have quickly centered on one question: Can iPad users actually perceive any difference in its new "retina display," introduced by Apple in its product unveiling last week? Leading iPad e-commerce players are answering with an unequivocal yes, and investing behind "retina-ready" features that are expected to drive additional shopper engagement and further accelerate the fast-growing tablet commerce space.
Apple touted a step-function change in the visual quality of the iPad experience. Its 9.7 inch screen features 2047 by 1536 pixels, a vast improvement above both the current iPad (1024 by 768 pixels) as well as most high-definition television screens. Put another way, the new iPad screen will have 4 times the resolution of the iPad 2 display, as well as 44% greater color saturation.
"The difference between the iPad 2 and new iPad is stark in the unprecedented clarity of the images," says Ben Choi, CEO of iPad catalog app CoffeeTable, "particularly for catalog shoppers who are used to flipping through real, high quality print pages. The new retina display will increase engagement, as shoppers almost subconsciously absorb more detail, and products seem to pop from the pages of CoffeeTable HD Catalogs."
CoffeeTable announced its release of HD Catalogs on the heels of of Apple's new iPad release, optimizing its catalog and product images for the highest resolution among apps in the Catalogs category. Apple's new iPad roll-out coincided with the creation of a new Catalogs category in the App Store, putting the spotlight on rich-visual tablet catalogs like those featured by CoffeeTable.
CoffeeTable makes hundreds of brands - such as Crate and Barrel, Sears, Athleta, and Lands' End - available to consumers at their fingertips. And now, all issues are automatically available as HD Catalogs on the latest version of the app when viewed on the new iPad. HD Catalogs will allow shoppers to see catalogs with four times the clarity and detail, vastly improving the browsing and purchasing process.
"One of the reasons CoffeeTable remains shoppers' favorite catalog app is the superior quality of the visuals in our catalogs," says CoffeeTable CEO Ben Choi. "We work closely with our retail partners to come as close as technologically possible to replicating the detail of a high quality print. With HD Catalogs we have taken a big step closer to that detail."
CoffeeTable's newest app release (expected to hit the App Store later this week) also includes improved sharing features as well as an all-new Wish List functionality, so that iPad shoppers can share the rich visual experience with others, or save favorite products for purchase on a later date. Additionally, CoffeeTable is the only catalog app with Express Checkout, allowing shoppers to complete purchases securely within the app itself, instead of being redirected to a third-party website. CoffeeTable is making the bet that its retina-ready HD catalogs and two-tap Express Checkout are a winning combination in tablet shopping.
For more information visit CoffeeTable on the web or download for free from the App Store.
About CoffeeTable:
CoffeeTable is a free shopping app that turns your iPad into a virtual coffee table of retail catalogs, allowing shoppers to browse their favorite stores anywhere, anytime. It is the only app that enables purchases to be made directly in the app, via its Express Checkout technology. CoffeeTable features rich visual catalogs of leading retailers such as Crate and Barrel, Sears, Lands' End, West Elm and many more.
CoffeeTable is the brainchild of e-tailing pioneers Chris Friedland and David Berman. Friedland and Berman are founders of Build.com, a $300 million e-commerce business. CEO Ben Choi is Venture Partner at Maveron, and is a seasoned mobile executive, formerly at Greystripe (acquired by ValueClick) and at Yahoo.