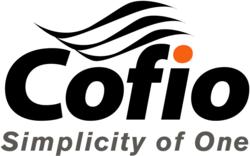 Eliminating backup windows with real-time and unified data protection.
San Diego, Calif. (Vocus/PRWEB) March 21, 2011
Cofio Software Inc., building upon the recent success of its software product, AIMstor™, announced the release of version 2.3. AIMstor software is the first application to combat "IT Sprawl" and the unnecessary spread of point solutions into the data center. AIMstor unifies numerous several data protection technologies into a next generation real-time backup, archive, replication and deduplication solution for Windows and Linux environments.
The new release offers:

Secure Distributed Architecture providing the following:
-Secure connections between all distributed AIMstor Nodes using Open SSL.
-Firewall Friendly for Remote offices and workers using VPN or Public internet for Remote Server, Workstation and Laptop backup and file archive.
-No Media Server Intervention, therefore, no bottlenecks of "Legacy Remote Backup".
-Fast Remote Site Connection to all AIMstor Nodes.

Cloud Ready for object storage of archived files and versions with set API.
CIFS Support with easy click through setup.
Linux Bare Metal Restore ready for upcoming versions of AIMstor's Dissimilar BMR.
Refined Source Side Deduplication capabilities providing faster Repository processing for reducing Client Backup network nodes by over 95% compared to Legacy Backup.
Application Consistency Support for SQL and Exchange backup and replication to compliment AIMstor's "to the second" crash-consistency.
Real-Time Statistics of Repository conditions and activity for snapshots, data transfers, indexed items and capacity planning.
Improved event notification for Backup, CDP, Replication and file level activities.
AIMstor is targeted at IT Managers of small to medium IT infrastructures who seek simple and cost effective ways of unifying backup, archive, real-time disaster recovery and compliance of data storage. Cofio pursues sales through resellers, system integrators, appliance vendors and OEMs. AIMstor version 2.3 is now available for download with registration at the Cofio website.
About Cofio Software, Inc.
Cofio is the creator of AIMstor software, a next-generation application for real-time Unified Backup, Replication, Deduplication and Archive with easy Workflow and Compliance. AIMstor's unique tools can be purchased independently while remaining unified under one single application for end-to-end data management and protection. Cofio is a global supplier of storage software since 2006 with offices in the US, Asia and Europe. For more information please visit: http://www.cofio.com.
# # #