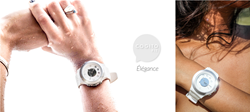 COGITO FIT: the beautifully connected watch enhances the smart wearable experience with elegant shimmer
Seattle (PRWEB) June 12, 2015
Some people think that connected watches are mere technological gadgets for geeks. That was before they met COGITO FIT Élégance. By popular demand during the current Kickstarter campaign, CONNECTEDEVICE created this special limited edition of COGITO FIT for women.
This limited edition features 31 round-brilliant cut Cubic Zirconia stones – making it one of the most exclusive products in the COGITO range.
COGITO FIT is not a smartwatch, but a watch with some smarts. One cannot talk with COGITO FIT, or read or reply to their emails, but receive essential notifications, visible at a glance and never have to worry about recharging. Plus, COGITO FIT uses Bluetooth Smart and lowers the drain on a phone's battery. And, of course, when the smartphone's battery is low, COGITO FIT will alert people so they have time to recharge their phone.
COGITO FIT doubles as a fitness tracker and seamlessly connects to iOS and Android smartphones. The watch counts the steps and allows people to monitor their daily activity without compromising their style. One can head out to the gym right after work.
Unlike other smartwatches, COGITO FIT is engineered to follow active users, especially in situations when the phone cannot be in their hands. With enhanced water resistance up to 10 ATM (100M), the watch's safely alerts users of calls and messages even in wet situations - in the rain, on the beach and at the pool.
COGITO FIT is available in 6 vibrant colours and brings customizable fashion to the smartwatch world. The interchangeable plug-in concept of the watch's bezel allows people to change the look of their watch and match it with their mood and outfit as often as they like.
Starting from US$49, COGITO FIT and COGITO FIT Élégance limited edition is now available for pre-order through Kickstarter website: https://goo.gl/fQErF1 and all orders will start to ship from July 2015.
General inquiries: kickstarter(at)connectedevice(dot)com
Media contact: media(at)connectedevice(dot)com