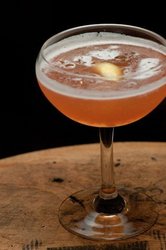 "It is a wonderful thing to see that mixologists share our passion for fine spirits. We make the Stradivarius Violin, and they play it." - Ferrand owner Alexandre Gabriel.
New York, NY (PRWEB) March 14, 2011
In Cognac today, spirits master Alexandre Gabriel and his venerable House of Cognac Ferrand produce one of the world's most coveted Cognacs – Pierre Ferrand Cognac. This amber elixir has been enjoyed in many ways in its lifetime. It was first imbibed as a mixable spirit back in the 1800s and after a bout of phylloxera, Cognac was only considered in measured amounts as an after dinner drink. Today, in the hands of fine mixologists, Cognac has gone back to its roots as one of the finest ingredients to make a superb cocktail and Pierre Ferrand Cognac stands as the choice at many fine establishments. According to an article in the December 2010 issue of Market Watch, Cognacs are now shaken and stirred in many signature drinks that are attracting young adult consume nationwide and while Cognac sales in the U.S. decreased in 2008 and 2009, in the first quarter of 2010, Cognac sales increased 16 percent (from Impact Database). Bars around the country are adding Cognac cocktails to their menus - including the five below - to take advantage of this Cognac cocktail renaissance and all are using Pierre Ferrand Ambre Cognac.
Below, cocktail historian David Wondrich and five master mixologists – Romee de Goriainoff from Paris, James Meehan from New York City, Chris Bostick from Los Angeles, Bobby Heugel from Houston and Lynn House from Chicago – share their thoughts about Cognac as a cocktail ingredient and their Pierre Ferrand cocktail.
Alexandre Gabriel, president and owner of Cognac Ferrand and an avid spirits researcher, takes particular pride in the fact that Pierre Ferrand Cognac is a favorite with bartenders looking for authentic products to use in their drink creations. "It is a wonderful thing to see that mixologists share our passion for fine spirits," says Gabriel. "We make the Stradivarius Violin, and they play it."
Noted cocktail historian, author, writer and cocktail master David Wondrich says this about the nectar that is Cognac and Alexandre Gabriel: "Back when the American art of the cocktail was first coming together, no spirit was more prized by mixologists than good French Cognac, and with good reason: the kind of simple, forthright drinks that the great nineteenth-century bartenders specialized in demanded quality ingredients. Fortunately, modern bartenders are rediscovering Cognac and modern Cognac makers are rediscovering bartenders. Nobody has been more active in this regard than Alexandre Gabriel."
COGNAC JULEP, by David Wondrich
1½ teaspoons of superfine sugar
½ oz water
6 fresh mint leaves
finely-cracked ice (wrap ice in a towel and pound it with a mallet, skillet or rolling pin)
2½ oz Pierre Ferrand Ambre Cognac
½ oz Plantation Vintage 2000 Jamaican Rum
3 or 4 sprigs of mint
Put sugar in a tall Collins glass, add water and stir until sugar has dissolved. Add 6 fresh mint leaves, pressing them lightly with a muddler. Fill the glass with finely-cracked ice. Add Pierre Ferrand Ambre Cognac and stir well. Add additional ice to fill glass. Float Plantation rum on top.
Insert 3 or 4 sprigs of mint and a straw. Then smile.
COGNAC COCKTAILS THEN AND NOW
Cocktails then… The most traditional of New Orleans cocktails, the Sazerac, was created by Amadie Peychaud, who combined his original bitters with Sazerac-brand Cognac. Perhaps the most famous of Cognac cocktails is the Sidecar, made by blending Cognac, orange Curacao and lemon juice. Those seeking a true taste of pre-World War II France need only turn to the simplest of Cognac cocktails called the Fine a l'Eau, simply Cognac and club soda.
Cocktails now… But for every Cognac cocktail that is steeped in tradition, there's a delicious and exciting new take on Cognac from today's most inventive bar chefs. Here, five superstar bartenders/bar owners from around the world share their feelings about Cognac cocktails and their favorite Pierre Ferrand Cognac drink recipe:
PARIS: Romee de Goriainoff, owner of Experimental Cocktail Club, Curio Parlor and Prescription
"Cognac is a key spirit in our drink offer in all of our venues: in Paris at the Experimental Cocktail Club, Curio Parlor and Prescription and in London at the ECC Chinatown. We particularly love using Cognac in cocktails for its versatility: amazing in strong stirred mixed drinks such as the Sazerac but also very pleasant in lighter drinks. The array of aromas extracted from Cognac once mixed is very large - Cognac can easily express flavors of ginger, cinnamon, leather in winter, as well as flower and fruits in summer. In the midst of the cocktail craze it is therefore not surprising Cognac is making a strong comeback as it is a spirit of choice for drinks."
BLIND DATE IN CHELSEA
Pierre Ferrand Ambre Cognac
Fresh Strawberries and Raspberries
Summer Fruit Cordial
Fresh Squeezed Lemon Juice
Luxardo Maraschino Liqueur
Hayman's Sloe Gin
Muddle fresh strawberries and raspberries in a mixing glass. Add ice and other ingredients, shake and strain into a chilled cocktail glass.
NEW YORK CITY: Jim Meehan, owner PDT
"The Petite Sidecar is a variation on one of my favorite drinks: the Ti-Punch, a Martinique rhum-based Daiquiri/Old Fashioned hybrid, composed of a slug of rhum, a bar spoon of sugar cane syrup and a lime disc. I created this Cognac based Ti-Punch, which has all the elements of a Sidecar, to mix with my favorite old Cognacs. I tend to reserve my best Cognacs for sipping, which is why many of them collect dust on the shelf. If you've got it, mix it!"
PETITE SIDECAR
2 oz Pierre Ferrand Sélection des Anges
½ oz Rhum Clément Creole Shrubb
1 Lemon Disc (silver dollar-size twist cut straight off the side of a lemon to retain flesh with the peel)
Squeeze the lemon disc on both sides (to express the oil from the peel and juice from the flesh) into a chilled rocks glass. Add the rest of the ingredients and top with pebble ice. Swizzle, then top with more pebble ice and swizzle again. No garnish.
LOS ANGELES: Chris Bostick, General Manager at The Varnish
"Cognac in cocktails for us is a no brainer, not only due to its historical significance, but also the depth of character it lends to classic and modern recipes. Much as the producers of fine Cognacs, for example Pierre Ferrand, have mastered the art of blending, we too strive to create balance and intrigue with our Cognac cocktails."
THE TWO-WAY MIRROR
1 oz Pierre Ferrand Ambre
1 oz Cadenheads Green Label Rum
1 Demerara Sugar Cube
3 Healthy Dashes Angostura Bitters
1 Orange Peel for Garnish
In a rocks glass, add bitters, sugar and a bar spoon of soda water. Gently smash sugar cube and lightly muddle to create paste. Add Cognac and rum followed by large cube of ice and stir. Spray oils from orange peel onto surface and place in cocktail.
HOUSTON: Bobby Heugel, owner/bartender of Anvil Bar & Refuge
"No spirit in the world is as meticulously crafted as Cognac. Pierre Ferrand's ongoing devotion to this perspective allows those of us who craft cocktails to incorporate the uncompromising traditions of Cognac into our cocktails."
EL TIGRE
1 oz Pierre Ferrand Ambre Cognac
1 oz Rittenhouse Bonded Rye
½ oz Luxardo Bitter Liqueur
½ oz Simple Syrup (1:1 Sugar to Water)
4 Dashes Fee Brothers Barrel-Aged Bitters
2 Dashes Peychaud's Bitters
Stir all ingredients with ice. Strain into a cocktail glass. Garnish with a lemon twist.
CHICAGO: Lynn House, head mixologist at Blackbird Restaurant
"Cognac is one of the sexiest spirits out there. It is surrounded by history and romance. I find it amazing to work with a spirit in which its creator may have never had the opportunity to experience it. Many of our original cocktails are made with Cognac. It adds depth, luxury, and amazing texture to a drink."
THE OZ
1½ oz Pierre Ferrand Ambre Cognac
1½ oz Plum Wine
1½ oz Gruet Blanc de Noir
½ oz Lemon Juice
½ oz Apple Cider Vinegar Gastrique (see below)
Combine all ingredients except Gruet in a mixing glass, add ice and shake until well chilled. Serve in a coup and float Gruet on top. Garnish with a lemon twist.
To make the gastrique: Combine 3 cups apple cider vinegar and 7 cups of sugar in a saucepan; simmer until reduced by half. Cool before using.
NOTES ABOUT COGNAC AND PIERRE FERRAND COGNAC
Hundreds of years ago, Cognac was considered the vodka of Europe. While its finest eau-de-vies were sipped in snifters at the end of a meal, Cognac also flowed freely in the cocktails of the day. But the phylloxera plague of the late 19th century wiped out most of France's vineyards. Without vineyards, there could be no wine, and without wine there could be no Cognac. What was once a plentiful and widely used spirit became rare and prohibitively expensive. Cognac became as scarce as hen's teeth, and drinks made with Cognac became rare indeed.
Flash forward to the modern day. Good Cognac once again is widely available, and today, bar owners and mixologists are eager to use Cognac in their cocktails – whether the drinks are their own creations or reinterpretations of classics. Cognac has the subtle essence of grapes and the freshness of fruit, and aging concentrates the flavor and adds balance, making Cognac the perfect partner for a cocktail. This unequalled flavor profile is the reason it was used in the drinks of the nineteenth century, and why today's most informed mixologists are reaching for it now.
Why are mixologists choosing Pierre Ferrand Cognac? Pierre Ferrand Ambre Cognac is the Cognac of choice for bartenders because of its high quality and affordable price. The quality of Cognac was the reason it was chosen over any other brandies back in the 1800s. This is why Pierre Ferrand adheres to the authentic ways of making their Cognac – by using only the finest grapes from the "Golden Triangle" of the Grande Champagne region, the most sought after terroir in Cognac, which gives the spirit greater elegance, structure and an unparalleled mouthfeel. Ferrand distills "on the lees" leaving skins, stems and some fleshy fruit which contributes both body and bouquet. Ferrand double distills in tiny copper pot stills which adds texture while reducing harshness. And then Ferrand very carefully ages its spirit in Limousin oak allowing the lush grape character to remain without tasting like oak.
At retail, a 750m bottle of Ambre is approximately $45.00 making it a reasonably priced choice for at home bar chefs who want to serve their guests a special cocktail or an excellent sipping Cognac. Pierre Ferrand also offers older cognacs, for sipping or cocktailing, like Reserve ($65) and Selection des Anges ($145; for that really high-end cocktail!). Pierre Ferrand Ambre Cognac is available at fine retailers nationwide. Pierre Ferrand Cognac is imported to the United States by W.J. Deutsch & Sons, Ltd.
http://www.pierreferrandcognac.com
http://www.facebook.com/PierreFerrandCognac
Media contact: Manuela Savona, Savona Communications, 917.969.1275, manuela(at)savonacommunications(dot)com
# # #