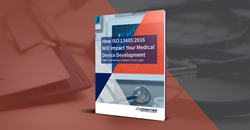 "With just a few more months left for that adoption to come into full-swing, organizations who are still struggling with the changes can benefit from reading this paper."
LEXINGTON, Mass. (PRWEB) January 16, 2019
Cognition Corporation, a software company specializing in medical device compliance and commercialization, has just released a new white paper of a two-part series discussing ISO 13485:2016, the quality management system (QMS) standard for medical devices.
The new white paper reviews high-level changes to the standard in key areas related to quality systems from its 2003 iteration. Through exploring these changes, the paper helps readers identify what important changes their organization will need to make as FDA harmonization draws closer.
"By April 2019, medical device manufacturers are going to have to comply with the updated ISO standard," says David Cronin, CEO of Cognition Corporation. "Our goal with this white paper series is to help them understand what changes may be necessary for that compliance."
The white paper identifies several important areas of quality system management that change or expand under the updated standard. As well, it looks at areas where QMS requirements will come into alignment for both FDA and ISO.
"FDA has committed to adopting ISO 13485:2016 as the basis for its regulatory requirements for quality systems," says Mr. Cronin. "With just a few more months left for that adoption to come into full-swing, organizations who are still struggling with the changes can benefit from reading this paper."
After reviewing the changes to the updated standard, this new white paper goes on to discuss the opportunities and challenges that come with adopting the new ISO requirements into an organization's QMS. By offering an evaluation of these possible benefits and drawbacks, the paper can help illuminate areas of concern manufacturers are better able to evaluate and manage.
"Shifting to a new compliance scheme—especially when it comes to QMS—is no easy task," adds Mr. Cronin. "Hopefully, manufacturers can use this paper to better address any current and future work to align with regulatory requirements and expectations."
The white paper is available for download here.
Cognition Corporation, based in Lexington, Massachusetts, has offered solutions for product development compliance for more than fifteen years. Cognition offers the Cognition Cockpit® Platform, along with engineering and validation support, and industry expertise. Thousands of users worldwide use Cognition solutions to manage their product development process and meet regulatory, performance, and-time to-market goals. For more information, visit http://www.cognition.us or call (781) 271-9300.